February 7 2012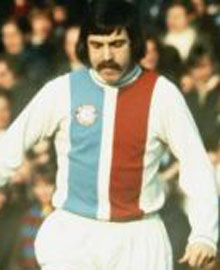 Don Rogers was a cult hero at Crystal Palace and scored some brilliant goals. Here he recalls some of his favourite moments.
'The Don' joined Palace in October 1972 already a star after helping Swindon to League Cup glory over Arsenal. He became an instant hit at Selhurst by notching a fine goal on his debut against Everton before scoring twice and setting up two goals in the famous 5-0 win over Manchester United shortly after. The former left winger gave this exclusive interview to Holmesdale Radio.
Hi Don, how did your move from Swindon to Palace come about?
I knew [Palace manager] Bert Head was interested in me because he was my original manager at 15 so I had no problems talking to him. Bert being manager had a lot to do with me joining Palace.
Swindon manager Dave Mackay got the blame for selling me to Palace. The reason I had to leave the club was because they had to pay an installment on the new stand and they couldn't afford it. It wasn't his fault I left Swindon.
Did you find much pressure coming to Palace with a big reputation at Swindon and also the £150k fee?
To be honest I never thought about the fee. I was very lucky to score in my first game and we won 1-0, so you couldn't go wrong. I got on the crowd's side right away so I was lucky. I couldn't lose as Palace were bottom anyway!
Did you think losing to Sheffield Wednesday in the FA Cup after two replays contributed to the poor league form and relegation?
I don't think that made an impact. Obviously losing games don't help. If I remember we had three or four home games virtually in a row against the bottom sides and I don't think we won one game. Had we won one or two we would have stayed up.
Malcom Allison was a superb manager but things just didn't go right. I thought it was ridiculous the way we went down. We all put it down to not having proper defenders. We had some good players but for some reason it just did not work out for us. Mel Blyth was a very good player - he could have played anywhere.
In our first game of the next season in Division Two we could have won by six or eight goals but we ended up losing 4-1 to Notts County. It summed everything up.
You scored some excellent goals for Palace, including one against Stoke which was voted the 1973 Goal of the Season. You beat some great players like Stan Bowles, Charlie George Peter Osgood to win the award.
I did enjoy that goal - I remember it very well. I actually won the ball off someone to start with which was a rare thing. The Stoke goal was probably my best because the move started so far back in our own half.
I got very upset about it as one of the judges who wrote for the Evening Standard said I didn't mean to do it! I thought it was quite obvious what I did. But I was lucky all the good goals I scored for Palace were on TV.
Your goal against Man Utd was one that Pele tried to do in the 1970 World Cup but couldn't. You pushed the ball past Alex Stepney one side of the keeper and ran the other side to score. Tell us about it.
It was just a quick decision, I could see the goalkeeper coming and I don't know how I did it myself if I'm honest. It seemed the easiest thing to do to push it one way and run. But I still had to be careful because a fella had come back to try and stop it on the line, so I had to make sure I pulled the ball back into the far corner to score.
I've got a lot of fond memories from the United game and a lot after too. I remember walking into the presidents lounge with a bottle of champagne at the bar with a glass by it. I thought that was lovely, haha. Actually there were two bottles - one for Alan Whittle aswell. So it was a good start to the evening!
Who inspired you to play football?
I used to kick a ball against a wall when I was young. Nobody taught me to kick right and left footed, it came naturally. My role model was Nat Lofthouse for some reason, maybe from when he scored a good goal. Stanley Matthews was another one, then there was Georgie Best who was fantastic. I was just watching the best player I have ever seen, Lionel Messi, I think he's tremendous.
How would you would get on in today's environment on the modern pitches?
I'd wonder where people would play me - they'd find it very strange. I was a left winger then developed into scoring goals. I'm not an up and down merchant on the left. They'd probably have to stick me behind the front man. It's quite common to have that position now - and playing five in midfield means you don't get beat!
Who was your favourite player at Palace? And any funny moments?
I still keep in touch with Alan Whittle but I got on well with Charlie Cooke, he had some great skills. Peter Taylor did the best impression of Norman Wisdom you'd ever see. He used to fall over his own feet when we went to hotels, it was hilarious. I look back now and think I was lucky to have a job where I played football and got paid for it.
---
The Holmesdale Radio show is live online from 8pm to 9pm every Sunday. Listen to more interviews on the Holmesdale Radio page. Or Subscribe to the podcast via iTunes