March 26 2002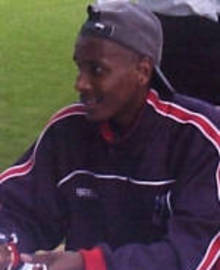 Clinton Morrison is hoping to do one better than his teacher Ian Wright.
Former Palace legend Wright is currently a regular at the Eagles training ground each week, helping out with the strikers' shooting routines.
His influence is certainly rubbing off on Morrison, as he has enjoyed a fruitful goal-scoring season.
Morrison could go one better than his mentor though, as he is hoping for a place in the Republic of Ireland's World Cup final squad.
Wright never made it to the World Cup finals with England, but would be delighted to see Morrison score in Ireland's friendly against Denmark on Wednesday night.
Morrison said: "Ian is always taking me aside and doing things with me. He wants me to succeed for Ireland and was one of the people who told me to come and play for Ireland.
"He told me I had the chance to go the World Cup, which is something he never did, and I know he hopes I do it. It would be nice to have one up on him!
"I am glad I declared myself for Ireland and the fans have taken to me straight away, which is brilliant.
"I am trying to learn a bit of Irish but so far I only know how to drink Guinness."
Commenting further on Ian Wright, he said: "Ian Wright has had a big influence on me. He was in at Palace last Thursday and did some finishing with the forwards.
"He is always encouraging me and telling me if I hit the target I won't go wrong.
"If I have a record like his I'll be happy. I am happy at Palace but I hope to step up one day and play in the Premiership like Ian did.
"I shall be ringing him to tell him I am playing, and hopefully he can come to the game, but he is always busy with his television work."
Morrison is pleased with his chance to impress Ireland boss Mick McCarthy on Wednesday night and sees it as his chance to get into the finals' squad.
"I am happy to finally get a start and hopefully I can impress the boss," said Morrison, who has scored 23 goals for Palace this season.
"I have enjoyed every bit of being part of the squad and I learnt quite a bit from the senior players. Hopefully I can carry on going.
"I am not yet confident that I will be going to the finals. I have got a slight chance but I have still got to prove to Mick McCarthy that I can do a job for him."