April 30 2002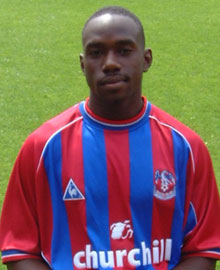 Dave Swindlehurst's reserves retained the Senior Surrey Cup by beating Conference side Woking 3-0.
Gareth Williams scored two goals and Steve Kabba got the other. Gavin Heeroo was sent off on 65 minutes, after receiving two yellow cards.
Woking's starting lineup included ex-Palace players Chris Sharpling and Roscoe D'sane. Former Eagle Jonathon Boardman did not play.
A crowd of about 800 turned out, which was mostly Woking, although some of the other reserve players and Steve Kember were spotted in the crowd.
The pitch was in surprisingly good condition considering the soaking it had for the last few days.
After a nervy first 20 mins, with both sides testing the keepers with high balls in the swirling wind, they settled down and were pretty evenly matched throughout the first half without creating any real danger.
Woking's biggest threat came (doesn't it always!) from an ex-Palace player in D'sane, whose pace down the right wing caused a few scares in the first half.
In the 23rd minute, a Tommy Black free-kick forced Woking keeper Tucker into a save and ten minutes later shot wide following a good run.
Black played well throughout, putting in a man of the match performance.
A well-worked move in the 41st minute saw Gareth Williams net for Palace and half-time saw the teams come in with the 1-0 score a fair reflection of the match.
Fortunately, the Eagles didn't sit back on their lead and created the main chances in the second half. What little Cedric Carasso had to do, he coped with well, apart from one clearance which he sliced behind (shades of Kolinko).
The match flowed on but as the time wore on, the Woking players started to tire. Palace were then reduced to 10 men when Heeroo received his second yellow for an unnecessary two-footed lunge in the 65th minute and the balance between the two teams was evened out.
Palace's and Williams' second goal in the 70th minute was a result of sustained dominance throughout the second half.
After a run into the box which saw him felled, Steve Kabba got up and signalled to the dugout. It looked like he'd pulled his hamstring.
But 30 seconds later, he produced a storming run which resulted in Palace's third goal, effectively ending the game. Almost immediately afterwards, he was subbed and Craig Dobson came on for the last few minutes but didn't really get a chance to show what he can do.
Palace retain the Surrey Senior Cup and Man U lose in Europe. All in all, a good night.
Palace Team: Carasso, Antwi (Gibson 83), Hunt, Heeroo, Popovic, Frampton (captain), G Williams, Black, R Williams, Kabba (Dobson 90), Rubins (80 Hay).
Sub not used: Cronin. Sent off: Heeroo.
Report by Brendan Johnson