Went on sale a few hours ago.
I'm a bit confused if somebody can help me out please?
I entered the away ballot for the Liverpool game a couple of hours ago and it let me add an adult ticket to the basket and took me through to payment which obviously was 0.
The ticket is now showing in my match ticket list as shown below but its under the heading of Arsenal Gold Ballot???
This is the first time I've used the ballot so am confused as to how it works. I assumed you were notified at a later date if successful or does it happen immediately as Ive described above??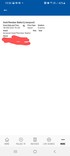 Attachment: Screenshot_20210908-195024_Crystal Palace~2.jpg (88.14Kb)

---
Don't waste your time with jealousy. Sometimes your ahead, sometimes your behind, the race is long. But in the end it's only with yourself!!