Crawley Town 5 - 1 Palace
Saturday July 22 2000 - Friendly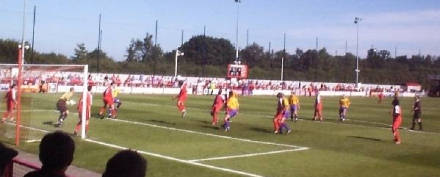 The Broadfield Stadium was pretty full on this lovely sunny day - prob around 3,000 fans.
Palace started quite brightly troubling the Crawley keeper on a number of occasions. Tommy Black, who was playing upfront along side Steve Hunt, had a couple of chances which he really should have put away but the keeper dived to his right to save well.
Palace were dominating the midfield for the first 15 minutes, but then it all went wrong. A ball was played down the left and Smith was poorly positioned to deal with it.
Digby was off his line and the player chipped him (not for the only time in the game) - to be fair it was very well taken. Stunned silence from the Palace fans.
Worse was to follow. Smith again being crap at right back didn't commit to a tackle, Austin got involved leaving his man free who then received the ball from the left and slotted past Digby from the six yard box.
Palace seemed to lose their way a bit now, shocked by what was going on. Things got worse though.
A cracking ball from the left by one Crawley player over the top of the defnece let one of their stikers through, with Austin floundering and with Digby off his line, guess what he lobbed him again - unbelivable. Palace went in to boos at 3-0 at HT.
No subs brought on after the break and Palace started brightly again. On 54 we got a corner which Austin headed home. Were things going to change? Where they bollox!
A few minutes later, Digby made a howler coming out to collect a ball from the on running striker he made a mess of it and pushed it into the path of the another player who passed the ball into the unguarded net. Tragic! Palace scurried about but didn't do much that was penetrating after that.
The humiliation was compelete with about five mins to go when the scored from a headed corner.
All in all Palace were pants - they lacked creativity and deserved to lose. The general consensus was that Coppell should have brought on more subs, but I have just read that we played a game last night where the other lads got a run so I can understand why he didn't change things that much.
In terms of individuals, Digby had a shocker - pure and simple! Smith is a bad right back - good going forward but defensively poor.
The defence in general although looked reasonably solid soaking up pressure was so short of pace it was terrible.
The midfield didn't do too badly but lacked creativity. Julian Gray could prove to be quite a good signing. He is quite slight but looks to have a good touch and a good left foot.
It's the first I have seen of Steve Hunt and all I can say is that he is slow, short, not strong and generally ineffectual - hmmmm.
Tommy Black looks to be fairly comfortable on the ball and seems to move around a lot. I think he will perform better in the midfield.
All in all it was a laugh, sunny day. But in summary, Palace were crap! It's been emotional.

From The Terrace Photos
Send us your own match report Click here
Match Stats
Ground: Broadfield Stadium (Attendance: Unknown)
Crawley Town: Unknown
Palace: Digby, Woozley, Linighan, Austin, Smith, Gray, Thompson, Mullins, Carlisle, Hunt, Black

Goal: Austin, 54
Referee: Unknown