July 31 2002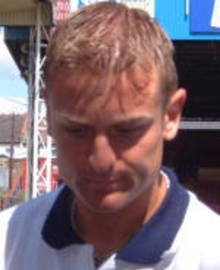 The Palace management have commented on tonight's testimonial game for Simon Rodger and hope he gets a great send-off.
Assistant manager Steve Kember said: "It's a well-deserved testimonial for someone who's given the club some great service over the last 12 years.
"I think it shows up the state of today's game when somebody like him, and probably another dozen, half-dozen, players can't find themselves a club."
Trevor Francis said: "We're really looking forward to the game. We'll go out there doing it for ourselves, but also for Simon Rodger who's been a great servant for the club. We hope he has a good night and leaves the field to a standing ovation."
Coach Terry Bullivant said: "Whenever he's played or whenever he's trained I can honestly say he's been a really good professional.
"He's a good lad as well and a good person to have around the place. He's a very good player and I find it amazing that he hasn't yet found a club.
"He's great at set pieces, his delivery is magnificent, he's a good passer of the ball and he works hard. I hope he has a really good night because he deserves it."
Dean Austin said: "I've been here four seasons with Simon. He's been a great servant to the club for 11 or 12 years. He's a top lad, top player and a top pro."