August 23 2002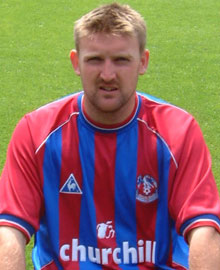 Forgotten midfielder Jamie Pollock has joined Grimsby Town on trial with a view to a permanent move.
Pollock has been frozen out of the club since his argument with Simon Jordan and Alan Smith and two seasons ago over both weight and attitude problems.
He is playing for Grimsby for free in order to gain a full-time contract since being paid off - like David Hopkin - by Palace.
Town boss Paul Groves said: "He hasn't played first team football for a while and we'll have to see how he does.
"But he's got a good pedigree and has been with good clubs in the past. He's got a bit of drive and has operated at a good level.
"He can be very competitive in the middle of the park. But he has missed a lot of time. It might take him a while to get that back."
Pollock missed most of pre-season with a shin injury and is unlikely to play with ex-team mate Stephen Kabba who has joined Town on a three-month loan.
Moves to Swindon, Wigan, Sheffield Wednesday and Birmingham have since fallen through.