November 6 2002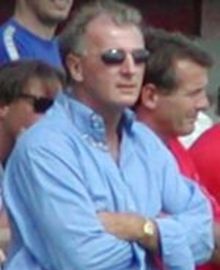 Trevor Francis saluted hot-shot Andy Johnson whose two goals helped the Eagles to a 3-0 win against Coventry in the Worthington Cup.
Johnson's brace along with a goal at the end from sub Julian Gray sealed Palace's place in the fourth round.
Francis said: "We were rubbish in the first 10 minutes and only some inept finishing by Coventry kept it at 0-0.
"But the big difference for us now is Andy Johnson. He never stops moving.
"We've won four games out of four and he's contributed nine goals. He's been a major factor.
"He's doing really well and he's in a rich vein of form. His goals have taken the eye but his all-round play is also good.
"He brings others into the play and defends from the front."
Francis added: "I've had some good times in this competition and I want another run this year.
"We're in reasonably good form and winning can become a habit. It's a habit we like."