November 13 2002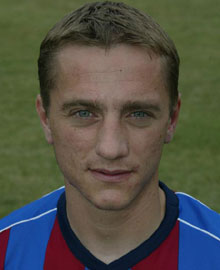 Andrejs Rubins has left Palace by mutual consent as part of the on-going cost-cutting measures at the club.
The Latvian international has failed to hold down a regular first team place since signing for £2m from Skonta Riga in October 2001.
He made 37 appearances for the club, scoring two goals, including a spectacular goal in the Worthington Cup win over Liverpool in 2001.
Contracts for Hayden Mullins, Julian Gray, Tommy Black and Steve Kabba expire next June and Simon Jordan may offload these stars to save money.
David Hopkin, Simon Rodger, Dean Austin and Andrew Frampton had their contracts settled by the club.
It follows the sacking of reserve boss Dave Swindlehurst and chief scout Barry Simmons in October.
Jordan has deferred player bonus payments until the end of the season and is keen to cut £97k off the average Palace player salary of £297k.