November 14 2002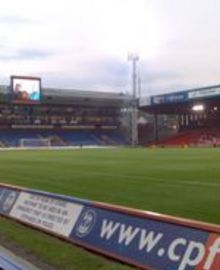 Chris Tribe salutes former Crystal Palace defender Chris "Cookie" Coleman.
I saw many of Coleman's games for Crystal Palace between the 91/2 and 95/6 seasons, when he arrived from Swansea City.
He came to the Club ostensibly as a left back but switched with ease to centre-back where his class was immediately obvious.
Tall, athletic, pacy and a good distributor. Great in the air. No wonder he was so popular. Above all, he was also a genuinely nice guy who always had time for fans, and played the game in the right spirit.
During his Palace time, he forged a great central defensive partnership with Richard Shaw – the original Little and Large. But they were a great double act that complemented each other well.
Coleman also had a stint as en emergency Striker under Steve Coppell, and was typically committed in this unfamiliar role and actually did a fine job there for Palace, uncomplainingly, as you'd expect.
Cookie also had his own song. "The Model" by Kraftwerk has never sounded better than when the Holmesdale Road faithful belted out: "He's a model and he's looking good…"
Well, maybe you had to be there, but it was fun. His perma-tan and black quiff also helped his image no end.
Although Chris enjoyed a fine career, perhaps there was a element of under-achievement at Club level considering his obvious quality.
Injuries again played their part to a frustrating degree. Blackburn Rovers bought him from Palace in 1995 and this should have been Coleman's big-Club opportunity, but he sustained an injury that cost him his place and eventually led to his joining Fulham in November 1997 for £2.1 million.
Coleman was a big influence on the Fulham side that challenged for and eventually won, promotion to the Premiership last season.
But before Coleman could properly enjoy his rightful place back in the top flight again, he suffered terrible injuries to his right leg in a car crash near his home in Bletchingley, Surrey in January 2001.
The injuries were such that he was never able to play at the highest level again, except for a brief substitute appearance for Wales in May when the Welsh beat Germany 1-0.
Honesty is also one of Coleman's virtues, witnessed by his comments on the Official Fulham FC website earlier this month. "It came to a point where I was not enjoying it because there was too much pain.
If I had been playing at the level I was before I might have coped but I was nowhere near. My brain was telling me what to do but my leg just wouldn't let me do it."
"For about six weeks my head was shot to bits. Even before I discussed it with my wife and dad, I knew in my heart it was over. So to have reached this point is just a huge weight off my shoulders.
I felt like I was living a lie. Whenever I met any fans they would ask when I would be back. I knew it was not going to happen, but I couldn't say that."
Coleman also declared he would be working for formal coaching qualifications next summer, having already been appointed Coach at Fulham, being involved at every level from first team to the Academy sides.
He will also be employed in the Welsh international set-up with Mark Hughes.
Chris Coleman was popular at every one of his Clubs, and for good reason. He was a modern-day defender with an athleticism that caught the eye, and always gave you full value.
With the current resurgence of the Welsh team, it seems especially cruel that Coleman cannot play a part in this dramatic upturn in their fortunes, or add to his 32 caps.
However, although the playing career of top-class professional and thoroughly decent person has ultimately ended, we should all be thankful that the outcome of that terrible accident was not an even worse one.
Good luck Cookie – you're still The Model.