November 21 2002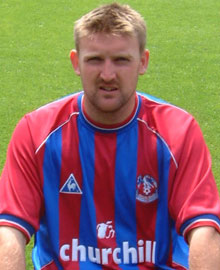 Former Eagles midfielder JAMIE POLLOCK has retired from football.
He was dropped from the side by Alan Smith following accusations of attitude and weight problems and he did not feature in the teams of Steve Bruce and Trevor Francis.
The 28-year-old was training with Grimsby Town after getting released by Palace last season.
He has since decided to play non-league football and become a director in his family's glass-making business.
POLLOCK told the Middlesbrough Evening Gazette: "I'm very proud of my career. I've played in the top two divisions for the past 12 years and I've thoroughly enjoyed it.
"But this year has been a difficult one and the options in front of me didn't excite me.
"I don't want to start dragging my family all over the country, scrapping around in the lower divisions.
"I always said that I would look at my options when I was 30, but bearing in mind that the digital TV money has been lost to the game and the same opportunities aren't there for players like myself, I've made the decision earlier.
"But I love the game and I will stay involved. I'm going to take my badges and I want to become a coach, and hopefully a manager one day."