October 20 2002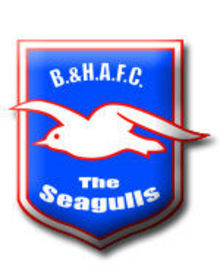 You get these funny looks from people when you're a Palace fan. What, they say, BRIGHTON?... writes Paul Mincer
Why, when you've got squatters on your doorstep (Wimbledon), noisy neighbours (Millwall) and people who actually don't like you very much (Charlton) do you bother with a club a whole motorway away?
I suppose it is strange really. Millwall should by, virtue of proximity and the fact that "no one likes them" probably be the club we hate most; but until recently we've hardly played them in the last 20-odd years. Before then, matches were pretty uneventful affairs. So, no, not Millwall...
What's to be said of Charlton and Wimbledon? Two clubs with relatively recent success, but no real "previous" as far as Palace and their fans are concerned.
No - can't get emotional about those two either. They hate us more than we hate them and are to be pitied for it, not despised...
To really undertand the hatred between Palace and the "Seaweed" (even if they have now got Steve Coppell, but more on him later) you need to turn back the clock; to the days of Mullery v Venables, Cannon v Ward, Harkouk, Horton and, most famously of all, Kelvin Morton...
To my mind it all really started around 1976, when Terry Venables, fresh out of coaching school under Big Mal, was the new manager at Palace and Alan Mullery was the brash boss at Brighton. Both clubs were the biggest in the old Division 3 and doing quite well.
Their styles contrasted nicely - Brighton the hottest attacking force in the Division, more likely to win 3-2 than 1-0; Palace the best defence in Division 3 - solid rather than spectacular.
Crowds at matches between the two regularly hit 25-30,000 as in the absence of other local opposition the trips up and down the M23 were the nearest either club had to a local derby.
Then it started.
The two were drawn together in one of the early rounds of the FA Cup in late 1976. The first game at the Goldstone Ground signalled the arrival onto the Palace scene of one Rachid Harkouk.
"Rash the Smash", as he was dubbed because of his penchant for long range shooting, came to the club from non-league Feltham and went on to end that season and the next as top scorer - his first ever goal for the club took this game to a replay after a 2-2 draw.
A 1-1 draw at Selhurst took the tie to a second replay at Stamford Bridge, scene of Palace's win at Chelsea the season before, where the Eagles emerged triumphant 1-0 with a Phil Holder goal and after a hotly disputed Brian Horton penalty miss.
Palace fans loved it but Brighton and Mullery in particular went ape, criticising all and sundry for the Palace encroachment at Horton's penalty that led to its being retaken (even though Horton had scored first time) and probably in frustration that his old mate Venners had outwitted him on the night.
A rivalry had been born...
From then on there was a period of sustained Palace domination against the foe. Palace went unbeaten for nearly 4 years as both clubs climbed the league together right up to the old First Division.
Peter Ward, goal poacher extraordinaire for both Brighton and England at Under-21 and I believe B level, couldn't buy a goal as Jim Cannon had him in his pocket.
The Seagulls would dominate games only to flounder against Palace resistance in the form of heroes like Harkouk, goalkeeper Tony Burns and striker Jeff Bourne.
The longer it went on the more Mullery and his captain Brian Horton (personally despised by Palace fans from his Port Vale days) hated it!
Then, in Division 1, the tide started to turn. Palace were thrashed 3-0 away on Boxing Day 1979 - a defeat that fans today still chant about (although I wonder how many of them know why?), Ward finally scored and broke the Indian sign that Cannon had held over him and Palace wouldn't win again until both clubs were back in Division 2.
Mullery amazingly changed camps in the meantime, much to the dismay of a number of many Palace fans.
As Palace's following went down, those who were left blamed Ron Noades' appointment of Mullery (replacing local hero Steve Kember) for the club's failure to make the most of once promising playing assets like Hilaire, Nicholas, Gilbert and Murphy.
On the pitch Palace's Henry Hughton's tackle that ended Gerry Ryan's career at Selhurst Park one midweek evening kept the antagonism bubbling...
Several years later, as a Steve Coppell-inspired Palace were on their way back up to Division 1, came possibly the most famous meeting between the two clubs of all. Everyone who was at Selhurst on that Easter Monday in 1989 will remember the day that referee Kelvin Morton gave no fewer than FIVE penalties!
Incredibly, Palace missed 3 out of their 4 but still won through 2-1, but Brighton fans still complain today that Morton gave them a raw deal that day and now, 13 years on, they get a chance to redress the balance.
Saturday 26th October 2002 was one of the first dates fans of both clubs noted when this season's fixtures were announced.
The recent appointment of Saint Stevie as Brighton manager, following in the footsteps of former 70s Eagles Peter Taylor and Martin Hinshelwood, has raised a real dilemma for Palace supporters with a sense of the ancient rivalry between the two clubs, but a deep respect for the part Coppell has played in Palace's own turbulent recent history.
On a personal level, when Brighton nearly dropped through the trap door into the Conference, I wanted them to not only survive but bounce back so that we could renew hostilites.
Now that they've made it back I did want them to be relegated by Christmas and to suffer humiliation at the hands of Dougie Freedman, Wayne Routledge and Co.
But the appointment of Coppell has changed all that. Of course I still want them to suffer that humiliation but I now want them to survive (at least for now) - for Stevie's sake.
He should have been given a job for life at Palace after almost single handedly steering the club through those dark days of administration, instead of making way for Alan Smith, and on Saturday 26th October I'm sure I won't be alone in feeling that Coppell, when he takes his seat on the bench for the start of the match, will be sitting in the wrong dugout...
Fans of both clubs are counting the days to the big showdown at Selhurst Park. Defeat for Palace could cost Trevor Francis his job - it's that important - while Brighton desperately need the points for different reasons. Who will be the personalities that fans will be talking about in 20 years' time?
For Peter Ward, possibly now read Bobby Zamora, whilst the threat of Routledge, Freedman and Julian Gray could tilt the balance towards the home side, following in the footsteps of Rash the Smash. But who knows?
Roll on the 26th - I can't wait!
Paul Mincer writes for Team Spirit Football
Email him at: paul@teamspirit-football.com