October 27 2002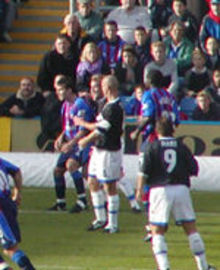 Jamesey, despite an earlier decision to abstain, went to the Brighton game after all. Blimey...
It was the Steve Coppell factor that swung my resolve. I had decided that the omens for the Brighton game were too ominous for a peace-loving old buffer like me to stomach.
But when Steve Coppell entered the equation as manager of the forces of darkness, how could I resist?
On Saturday afternoon, travelling down to Norwood Junction on the train, there was a far higher number of casually dressed 18-25-year-old males than usual.
Whether they were Palace or Brighton I know not as they wore no colours and the accent is pretty similar.
When we were decanted at Norwood Junction a platoon of very fierce and intimidating Old Bill blocked the exits and I narrowly avoided being marched down the High Street to some pub or other where I didn't wish to go.
In the streets near to the ground the atmosphere was pretty grim, with the mandatory obscene chanting and quite a few minor scuffles here and there.
All it needed was a faint whiff of tear gas and we could have been in a 1986 time warp. However once seated in my usual berth in the Main Stand the scene was electric.
Lots of noise coming from the weeds in the Wait stand and for a change even more noise coming from parts of the ground other than the Holmesdale.
I was surrounded by an unusual crowd of teenage lads, all shouting their heads off and jumping up and down every 10 seconds much to the disapproval of the disabled lady who sits next to me and can't see a bloody thing when someone stands in front of her.
Still, mustn't complain too much...it was a very special game and to see Selhurst almost sold out makes a welcome change these days.
I can't help thinking that it would be nice to see all these thousands of "fans" turn up and make some noise at the less glamorous fixtures.
I was reminded of the Cup Final in 1990 when I walked down Wembley Way with 40,000 red-and-blue clad supporters, well more than double our average home gate. Funny, that?
I confess that, like many HOL members, I was convinced that the fates had decreed a victory for Albion, especially after our dismal capitulation in the second half against the Dons the previous week.
Could we have been more wrong? From the kick-off Brighton were overwhelmed by a real team of motivated and strong-willed players. As the goals mounted up the occasion became one that will live long in the memory. And I nearly didn't go...