August 23 2000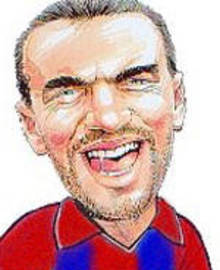 Goals from Clinton Morrison and Neil Ruddock secured a 2-1 win over Cardiff City in the Worthington Cup First Round 1st leg.
In a game of two halves, Palace dominated the 1st half allowing Cardiff back in the game for the second period.
The Eagles opened the scoring after 14 mins when Tommy Black's long pass found Morrison who controlled supebly, cut inside and hit a wonder goal with his right foot.
Andy Legg did hit a post soon after for the visitors with a long range effort, then Neil Ruddock made it 2-0 with a header from a corner.
Scott Young grabbed a vital away goal in the 55th minute when he headed home a Legg cross to make it an interesting second leg at Ninian Park.
Alan Smith said: "It is our first win of the season and it is good to get it under our belt.
"We do not play Cardiff for two weeks and by that time we will be a stronger and fitter team.
"A great goal by Morrison but I had to take him off as he suffered a bit of a groin strain."
Bobby Gould, Cardiff's manager commented: "I am disappointed by the way we conceded the two goals but yet we have a chance of progressing and we take the away goal with us.
"But credit to the three midfielders, they really worked hard and showed great enthusiasm."
Palace: Gregg, Zhiyi, Ruddock, Mullins, Rodger, Morrison (McKenzie 76), Black, Forssell, Carlisle (Gray 70), Pollock (Fullarton 83), Harrison.
Subs not used: Smith, Austin.
Cardiff: Walton, Brazier, Young, Greene, Boland, Bonner, Nugent, Legg, Brayson, Low, Gabbidon.
Subs not used: Hallworth, Hill, Eckhardt, Earnshaw, Skelly.