December 4 2002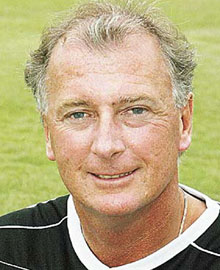 Trevor Francis was delighted with Tommy Black's performance in the 2-0 win over Oldham which saw the Eagles through to the quarter-finals of the Worthington Cup.
Black capped a man-of-the-match display with a goal in either half.
Francis said: "The eye-catching performance was that of Tommy Black. I thought he was quite outstanding. He's a talented player who in the past has not scored enough goals.
"When he plays behind the front two he's very difficult to pick up, and his movement and trickery were complemented with his two goals.'"
Danny Granville was harshly sent off in first half stoppage time for showing his studs and Francis added: "I'm going to say I didn't see it – similar to the referee, because he didn't see it either.
"Well, he did see it and looked at it and was quite happy with it. But the linesman thought Danny had made a two-footed tackle and brought it to the attention of the referee and told him to send him off.
"It came as quite a shock when he was sent off – there was no intent to inflict damage. I have not seen it on a replay yet, and admittedly if it was two-footed he deserved to go."