December 4 2002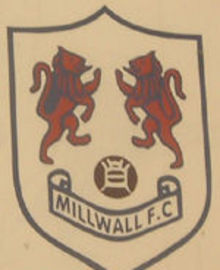 In the build-up to Saturday's South london derby against Millwall, some supporters recount past moments against the Lions...
KAOS
Just to put the wind up the brave few who are going on Monday why don't we all start with what encounters we have had with them to warrant not having the bottle to go!
Circa '87 season
----------------
I was in the AW stand singing away when a lone Wall skinhead I spotted (yes a skinhead in '87) earlier as I was reading his tattoos decided enough was enough and steamed in to everyone who was singing. On his lonesome too.
But then I realised how many Millwall were actually in the AW and it went right off. A few even somersaulted from the seats above. I got thrown by a police man to one side for my own safety and everything spilled onto the pitch. A segregated AW terrace ensued.
The SLP had a big article the week after on this with a great photo of it with the skin being held by two coppers. I was at the bottom of the photo with a wedge haricut looking the part but in fact I was trying to get away from things as they'd put the willies up me (not literally!).
Palace made a half hearted attempt to try and run the Wall when we scored and I'll bever forgive this bloke who was much older than me telling everyone to charge them and pushing me towards them.
Was I glad when the thin blue line told us to back off as I really wasn't up for having it with the growlers who were going nutty behind them. Anyway I was happy to swap some masturbation signs their way.
After the game I was chased down Thornton Heath high st with my mate by the ones that we had been swapping maturbation signs with. Found solace behind a multitude of Peak Frean bicuits in Presto after shaking them off.
Oh did we laugh for the rest of the evening until reality set in. On the news there was a report that a West Ham fan by the name of Terry Burns was stabbed to death in a pub at Embankment that evening by Wall fans who had been at the Palace game that day. Kind of puts things into perspective dunnit!
I've had a few more run-ins since then but I won't share anymore for the time being!
Sherlock
I remember as a crombie wearing very young teenager being penned in one corner of the old Den with a rickety fence seperating us from the screaming home fans and coming under a hail of glasses and bottles with the odd dart thrown in for good measure and the Palace fans gobbing back at our assailants.
After the final whistle, the Palace fans left the ground singing led by Denny Warren. This man was more than a match for any of the Wall.
In those days, the nearest station was New Cross Gate and an ambush awaited those heading there through the railway arches en route, though there was always safety in numbers and Palace fans willing to stand up for themselves.
Once at New Cross Gate you were relatively safe as it would by then be heaving with Palace, although on a few occasions the train arrived at the platform with Wall filling some of the carriages.
I remember after one game at SP the trains being stopped because Millwall supporters were being chased along the track from Selhurst. Compared to those days a trip to Zampa Road is a stroll in the park.
Double Glazier
1976. We played them a couple of times during our semi-final FA cup run that season as well as in the league (Div 3).
Can't remember which Selhurst game it was exactly (probably the league game because it was the bigger crowd 34,000) - anyway I remember this big fat Millwall fan (probably about 20st) down the front of Holmesdale causing a rumpus.
It took about seven coppers to get him out. Caused a lot of entertainment for both sets of fans. Palace's league fortunes were fading fast after a good start to the season and Millwall were on the up. Peter Taylor ballooned a penalty...0-0.
We were just about in contention for promotion at our final two games of the season, both of which we needed to win to go up.
The home game was against Chesterfield. Millwall were also in contention and came down to cheer on their new buddies. Of course we could only draw 0-0.
In truth, after we lost to Southampton in the FA Cup semi, our season really did fall to bits. In fact we only won one out of the remaining seven games. Millwall? They got promoted.
Billingshurst Eagle
Going to the New Den on New Years Day '94 - Champions elect - losing 3-0 and being chased all the way home to South Norwood.
Same season at home it rained batteries on the Holmesdale terrace and watching the police charge Millwall fans at Norwood Junction.
Millwall fans revell in their own notoriety and success on the pitch just encourages them more.
I've said it once and I'll say it again - Millwall fans are scum.
Lee McB
That 4-3 at Selhurst was an amazing game! Millwall also had a very young Edward Sheringham in their starting line up!
But Bright's second (and our fourth) has to be one of the best goals I've seen at Selhurst! The way he steadied himself, and then BOOOOOM!!! top of the net!!
And the Jeff Hopkins lobbed own goal was quality (now that we can look back and laugh on it!). Definately in with a shout of best own goal at Selhurst...though that Martin Grainger one for Birmingham was pretty special aswell!!
I Went to the old Den as a young teenager with my brother in the early 80s for an FA Cup game. My mother was not keen on me going but off I went. I thought it would be safer in the seats (wrong, once Palace scored, fists were flying!).
I left before the end for safety reasons and heard them equalise from outside the ground.
The next time I went there, my dad came for a midweek match and we ended up of outside the home end and a copper asked if we would like an escort through the home fans - we declined!.
We decided to walk around the ground which you would think would be easy! Every way we walked we found a dead end which could have been fatal had the game not already started.
It took 40 mins to reach the Palace section and I think we were losing at half time, we lost 3-2 I think.
The next time I went there we scored with a Jim Cannon goal six mins into injury time for a 1-1 draw and outside their moron fans gobbed at me as I walked to the car (probably lucky at that).
That is why I hate Millwall scumbags so much! Saying that I would like to get even with the offenders now, I don't think they would be so brave if I met them 15 years on.
I have to confess after our cup final defeat, I was devastated and on the Friday night I went out in the city.
While waiting for a train back to Kent, an East Croydon train came in and a lanky bloke in a Palace scarf got off and was started on by two thugs shouting Millwall abuse at him.
Being both drunk and peed off about the cup final defeat, I turned into the incredible hulk and proceeded to ram both of them from one end of the platform to the other - they were not expecting this and ran off!
The bloke got on my train with me and got off at Hither Green before thanking me! I am not a trouble maker but i felt good about myself.
Old Chap
One of the most recent is the league game when we beat them 4-1 in 1996. Obviously we were delighted with the result, but this soon turned to terror as we (tried) to leave the stadium.
THE PA announcing "home fans are being kept behind for your safety" - a mate remaking it was to let the scum set up ambushes!
Eventually getting out, starting to walk, running back as a mob charged us. The kids (about eight!) behind the car-park railings screaming abuse, the look of HATE on their faces.
Getting to the alley to the station, mob of Millwall blocking the way, no Old Bill anywhere. Making a dash when they chased a Palace fan, jumping on the first train, didn't care where it was going.
The final memory was listening to Capital Gold, on the phone in (Mullers was with JP) a Scumwall fan ran up moaning. When JP commented on the trouble, Scum said: "It was Nigel Martyn's fault there was bovver." When JP asked why the comment was: "He shouldn't have saved a penalty."
Safe ground? I don't think so.
budboy
I remember going to a FA Cup game at Old Den. We were winning - I think 1-0. The away terrace had loads of Millwall in it. An unwise young Palace fan, probably about 15 and with his old man, started singing: "We can see you sneaking out."
Obviously Millwall in our end were not pleased. They take him to one side in menancing manner, funny now but not then. The lad's dad says: "What you doing?" Millwall boy says: "He's our mate," to which the dad says in an extremely shaky voice "No he's not, he's my son."
As I said shit scary at the time, but funny now. That is the only game I have ever been truly afraid for my own health and safety.
Anyway, the boy managed to get away unscathed and Millwall equalised in the last minute and beat us in the replay at Selhurst. I think it was that year they went crazy at Luton on the telly.
Penge Eagle
The classic has to be when we beat them 4-3 at Selhurst in 1989. I wasn't at the game, but have seen the the highlights loads of times on tape. That Jeff Hopkins og totally summed him up as a player.
Millwall had donkeys like Hurlock, Cascerino, Anthrobus, while we had Wright, Bright etc. Must get the vid out again.
A few years ago (1994) me and a mate went to the one when Nigel rushed out and clattered their Jeremy Beadle striker.
Their fans were furious he only got a yellow. I think we won that game too. On the old Holmesdale it was poring with hailstones aswell as batteries and coins from the Wall fans!
Who forget our 4-1 win at the Den in 1996, when George Ndah's overhead kick spilled through Kasey Keller's legs for the third or fourth.
I've been to the Den the last three times we've played them, but I hear the trip to Cold Blow Lane was something else!