December 23 2002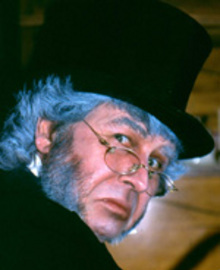 By Paul Mincer - with all due respec' to Charles Dickens, Walt Disney and anyone who thinks they might recognise themselves in this story...
The scene: It's a cold Saturday night in December 2002 and in a dark portakabin at selhurst Park sits Ebeneezer, counting the day's takings after another home match.
The fans have gone home; Eb opens the safe and starts counting the bags of notes and coins therein...
EBENEEZER: Ten, twenty, thirty... Oops, mustn't forget that fiver on the floor down there - as my old Uncle Ron used to say, "Look after the fivers and the fifties will take care of themselves..."
He hears a noise. The door to the office creaks open...
EBENEEZER (shielding the money on the table with his long expensive coat): Who's there?
In comes Tiny Trev, the club's faithful manager of one year, fresh from the post-match press conference.
TREV: Hello Boss, what are you up to?
EB: Up to? Me? Oh, nothing - just catching up on some last minute paperwork before I go home.
TREV: What's that under your coat Boss?
EB: Coat? What coat? Oh THIS coat! Nothing...
Trev knows better by now than to start an argument with his chairman and decides to change the subject.
TREV: Look, Boss, I've been meaning to catch you for a while. You saw what it was like out there - we only just about scraped a side together today. If we're going to mount a serious promotion challenge we're going to need more cover in all positions. Freddie Douglas is out till the New Year and although Little Tommy White's playing his heart out he can't do it all on his own - couldn't we try to sign someone on loan or something? I've got a few ideas for players who wouldn't cost the Earth...
EB: Trev, I see where you're coming from, but you know times are hard - we just can't afford anyone at the moment. You'll just have to make do and mend. As my old Uncle Ron used to say...
But Trev has switched off - he's heard Ebeneezer's sermons on frugality countless times before. He goes home to contemplate the unfairness of it all, leaving behind his old lucky sports bottle, handed down to him by his mentor, the Grand Master of Nottingham. He's never cleaned the bottle, fearing it would bring him bad luck if it did...
Ebeneezer, meanwhile, continues counting in the fading light when, all of a sudden, he notices Trev's grubby old sports bottle on his desk. He picks it up, notices how dirty it is and gives it a little rub to try to clean the label enough to read it.
Suddenly a ball of light shoots from the bottle, illuminating the room and releasing into the air a host of spirits who have haunted Selhurst Park over the years. One of them approaches Ebeneezer.
1ST SPIRIT: Eb? Eb? Is that you, son?
EB: Uncle Ron? Is that you? I don't believe it, what are you doing here? The rent's not due yet is it?
RON (for it is he): Yes Eb, it's me. Now stop talking and listen. I've come back but I haven't got long, I'm on a meter outside. I've been sent to show you something - the Spirits of Selhurst need you to change your ways...
EB: Yeah yeah, heard it all before...
RON: No, really - trust me. Come on...
Suddenly, as if by magic, Ron and Eb are transported back in time to the director's box at Highbury. It is May 1993 and Palace have just been relegated from the Premier League. There are wails of anguish emanating from a little corner of South London that is the Clock End. Alongside the two visitors from 2002 sits a younger Ron, looking impassively on the scene.
EB: This is horrible! I remember how I felt that day - sick to my stomach! The thought of Ian Wright scoring that goal; the way Oldham came from nowhere to overtake us; one more point, that's all we needed; one more point...
RON: You're right Eb. But look at me over there, like butter wouldn't melt... I thought we were doing OK on the pitch, but we never built on our 3rd place. I should have listened to Little Stevie and invested in the team. No point having ideas about a great stadium if we're not even in the Premier to enjoy it, eh? Don't make the same mistakes I made - by all means invest in the ground, but if you love the club you've got to take care of today, not just tomorrow - think of the team...
EB: But Ron, you always used to tell me, "Build the stadium and they will come." You can't change what happened, and anyway we haven't got two pennies to rub together these days. It's all so different today Ron. Ron? Ron? Where are you?
But Ron has gone and Ebeneezer is now back in his office, as another spirit approaches..
EB: Hello, who are you? Seen you before somewhere... Don't I know you?
2ND SPIRIT: Wotcher Eb, gis a job...
EB: Goldie! How are ya mate? Wondered what had happened to you...
GOLDIE: Come with me Eb, I've got something I want to show you - it won't be pretty so brace yourself...
All at once Eb and Goldie find themselves in the drawing room of an old country mansion. The lights are dim, all the furniture is covered and the rats are huddled against each other for warmth.
EB: Where are we?
GOLDIE: This, my friend, is all that remains of my time in charge of our glorious club. I didn't spend my money wisely, Eb - I got too much bad advice, got involved with too many shady characters - and it got worse when I became chairman! Problem was we never had a home to call our own, so when I had to go and see the bank manager - well it turned a bit nasty and I had to pull the plug. Oh Eb! Don't make the same mistakes I did and risk sending the club into oblivion. Spend your money wisely... Spend your money wisely...
EB: But Goldie, I'm doing my best - what more can I do? Little Trev's got my full support, he knows that...
GOLDIE: Does he really? Follow me...
Goldie leads Eb through what appears to be one of the doors from the drawing room into the hallway. Instead Eb realises very early doors that he is now in the house of Tiny Trev and his family, who are busy preparing for Christmas. Trev is hunched over his PC, scouring the internet for free transfer players, his face contorted with worry, while Mrs Trev wraps an orange with some cheap wrapping paper.
MRS TREV: Trev, do we really have to give the kids this orange between them? Can't they have one each?
TREV: Sorry, Love, we can't chance it. You know I need our savings to finance that loan deal for Ronaldo. That agent feller was sure he'd come to Palace if we could just raise the advance. Used Tenners, I think he said...
EB: My God, this is terrible - why hasn't Trev got the heating on?
GOLDIE: He's trying to save every penny he can. He really thinks he's in with a chance of signing Ronaldo - he thinks it's his last chance...
EB: Agent? Used Tenners? He can't be serious - I've got to tell him...
But in a trice, Eb is back in his office, where it's now even colder. Eb is now confronted by Little Wayne, the club's young star.
EB: Hello Wayne, what's up?
WAYNE: I'm here to show you the future, Eb, you must come with me...
EB: Oh no, not another one...
In a flash, Eb and Wayne are transported forward in time. It is the year 2013; the place a deserted stadium in Milton Keynes, where Palace are playing Wimbledon. The attendance has just been announced as 756...
EB: I say, this really is a cold and depressing place.
WAYNE: Get used to it - this is home!
EB: What!!!!????
Eb notices that Wimbledon are indeed in their away kit with Palace in their familiar red and blue. The announcer over the tannoy at the ground even thanks Wimbledon for helping to swell the crowd today. Eb also notices that Wayne, far from being in his Palace tracksuit, is actually wearing an England blazer.
WAYNE: Yes Eb, this is what it's all come to. When the lease ran out on Selhurst Park we were in the bottom half of Division 1 and crowds had slipped to below 10,000 - people had just got fed up with the way players like me had been let go and not replaced.
EB: I wondered why you weren't out there.
WAYNE: Yeah well, when United sold Beckham to Real Madrid they needed a right winger. The rest, as they say, is history...
EB: Didn't we get any money for you?
WAYNE: I was out of contract and you'd stalled on a new offer...
EB: Doh!!!!
WAYNE: Precisely. They signed Steve Cabbage around the same time and now we're both in the England squad.
EB (looking around the deserted stadium): But how did we get here?
WAYNE: Well, when Wimbledon changed their minds about moving to MK the stadium needed an anchor tenant and as Palace's lease had run out you decided the club needed a fresh start.
EB: This is a nightmare!!! What have I done? How can I stop this? Wayne, you have to tell me...
WAYNE: All is not lost Eb - you can stop this happening. Use your money wisely - remember why you saved the club in the first place. Don't make the mistakes your forefathers made - by investing now, people will see that you're investing in the future. Build the foundations, don't just wait for them to happen. Come on, you know you can afford a little more...
EB: You're right Wayne. I have been too conservative in my outlook. I should give Tiny Trev my full backing - he's not a bad judge of a player, is he? I CAN afford a little more - it is Christmas after all... Wayne, I'll make sure I treat you right too... Wayne? Wayne?
Little Wayne has gone and Ebeneezer is now back in his drafty portakabin office at Selhurst Park. All the club staff have now gone home and Eb reflects ruefully that he has Tiny Trev's grubby little sports bottle to thank for helping him to see the light. He picks up the phone and dials...
EB: Hello - Trev? Sorry to call so late. About those squad additions you were talking about. I've been thinking, we should do something that will really bring the crowds in - how's about we contact Real Madrid and see if they'll let us take Ronaldo on loan? Not promising anything but he could probably do with the match practice. Trev? Trev? Are you there???
Voice of MRS TREV: Sorry Eb, he's just fainted - what did you say to him? He's gone quite pale...
Eb puts the phone down and smiles. He notices that the bags of used notes and change that were on his desk before have been replaced by pristine bundles of fifty pound notes. Eb counts them all - it's a cool million pounds. A note on the desk says, "Call it your Christmas bonus, but remember what we said..."
Eb leans back in his chair, lights a cigar and thinks. Maybe it will be a Merry Christmas, after all...
THE END
Or is it just the beginning?
(c) www.teamspirit-football.com
Paul Mincer writes for Team Spirit Football
Email him at: paul@teamspirit-football.com