January 23 2003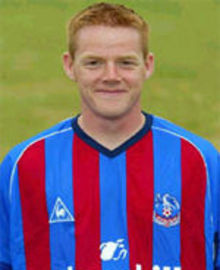 Gareth Williams has gone on loan to Second Division Colchester for a month.
Colchester boss Steve Whitton has been tracking Williams for a while now, especially after impressing him during a reserve game in November when Palace and Colchester met in the Avon Insurance Combination League.
The loan move will be a good chance for Williams to get valuable first team experience. He will go into Colchester's squad for their match against Blackpool at the weekend.
Whitton told the official Colchester website: "He is a goalscorer, a very intelligent player, and I think he will be an asset to the squad. He's not a massive lad, about 5ft 10in tall, but a very good footballer with good technique and is very good at finishing.
"He played against our reserves for Crystal Palace's reserve side a couple of months ago and we have been watching him ever since.
"For one reason or another, he has not been available because of injuries to their main strikers, Akinbiyi, Freedman, Johnson, but now they are all okay we can have him on loan. It will be a month's loan initially and if he does well we will look to extend it."