January 24 2003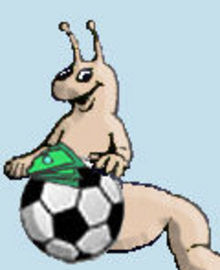 Halfmanhalfslug predicts a tough game for the Eagles when they take on the Scousers on Sunday in the FA Cup...
FORM
Sadly, it looks like the Scousers have pulled out of their slump just in time to face Palace.
No doubt we all remember the last time they came to Selhurst -- in fact, Palace were the only English club to beat Liverpool in their treble season.
Their last win was against Sheffield United in the Worthless semi final... and coincidentally Sheffield United are the only club to have beaten Palace in our last eleven matches.
PICKS
It promises to be close, as long as we don't concede early, but no matter what happens it's going to be a hard game indeed for the Eagles.
No doubt most of us will be betting from our hearts, but here's a few from my head this time:
Exact score 2-1 Liverpool: £2 @ 15/2
Exact score 2-0 Liverpool: £1 @ 6/1
First goal El Hadji Diouf: £2 @ 15/2
Goalscorer match bet: Owen beats AJ: £5 @ 9/5
Have a look at other football tips