January 25 2003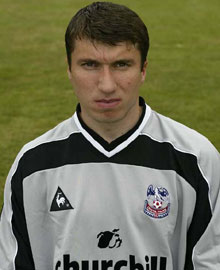 Alex Kolinko is sure to have fired up Michael Owen ahead of the FA Cup match on Sunday, by saying he's not as good as he used to be.
Hopefully his comments won't backfire on him like it did when Clinton Morrison did two seasons ago when he said he could have put away Owen's missed chances.
Morrison was made to eat his words as he had a stinker in the second leg at Anfield and went on a goal drout.
Kolinko said: "I don't think he's [Owen] as good a player as he was two years ago.
"You have good times and bad times and it's hard for him at the moment. He's still a good player but I think our defence will be good.
"Tony Popovic, Kit Symons and Hayden Mullins are good players and I think Mullins is ready for the Premiership. Liverpool are strong in every position but we think we have a chance."
Trevor Francis is disappointed Liverpool are starting to come out of their slump at the wrong time.
He said: "There are definite signs they are playing better now. I would have preferred to play them a month ago.
"Any successful team must keep clean sheets and they are doing that. We're disappointed they look solid again but we've got some good attacking players."
He is hoping Andy Johnson will make up for his missed penalty in a shoot-out in the Worthington Cup final in 2001, when Liverpool beat Birmingham to lift the trophy.
Francis said: "He was absolutely distraught about it, but he's not lacking in courage because he has taken penalties here, so it hasn't put him off for ever."
"He set us alight in that final and it was a terrible disappointment to come so close. We were the better side.
"But we gave a good account of ourselves that day and I'm looking for a similar performance from this side. Andrew is back from a broken toe for this game and he is essential to my plans."
He added: "We will give them respect but we do like to go out and win football matches - that's always our objective.
"I want my players to play positively and will be sending them out to try and score goals and cause all sorts of problems to the Liverpool defence.
"But first and foremost my side must play with real determination and attitude and work hard to stop Liverpool playing. It is vital we don't give them any space because if you do they will hurt you."
Tony Popovic is looking forward to the challenge of playing against Owen.
He said: "He is one of the best strikers there is and me and the other boys in defence know we are going to have our hands full looking after him.
"But I'm not worrying about it, it's more a case of looking forward to a challenge. To be honest I'm relishing the thought of testing myself against the best.
"We are at home on Sunday and are in good form which will mean we'll go into the game full of confidence.
"Sunday's going to be tough. Liverpool are a great side with international players in every department.
"But we're playing at home which is an advantage. We just have to go out there and believe we have a chance of going through. If we don't we will get beat."