January 26 2003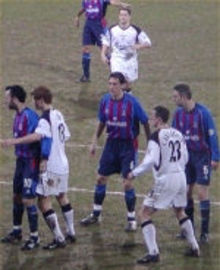 Mr Fenandes waxes lyrical about the Palace performance in the 0-0 FA Cup draw at home to Liverpool...
Have you ever seen a more exciting 0-0 draw??
The game was fantastic and I think every player out there gave it there all, and really gave me a sense of pride to be a Palace fan.
We outplayed them, especially in the first half where they were closed down like a 99p shop in Croydon.
Owen had to be subsituted for the invisible man discreetly in the second half and every player in the Liverpool squad looked to be playing for a draw as fraustration grew throughtout the match.
An excellent performance by everyone, but in particular, Popovic, Johnson, and surprisingly Dele Adebola had his moments.
Johnson was everywhere, even back to perform his defensive duties, and the man of the first half in close contention with usual mediocre midfielder Danny Butterfield, who controlled the entire midfield
After Black came off, the midfield power slightly turned to the direction of Liverpool, who despite gaining possesion on more occasions, could not find the space to score.
Overall an excellent game, where Palace fans will be the ones feeling unlucky to have got a draw with Liverpool feeling relieved about it.