February 2 2003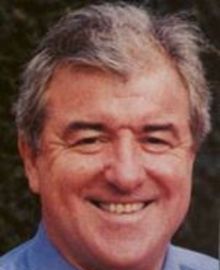 Although it is not dignified for gentlemen to gloat at another's misfortune but the current crisis at Leeds has had me in stitches... writes Matt Harvey.
It is so pleasing to see Terry Venables being under the cosh, that I have made myself look undignified in conversations about the subject.
If you read the Leeds supporters' reactions to the the fire sale at Elland Road, most seem to back Venables and think that the man is doing a good job given the circumstances.
They want answers from the Board, they want Peter Ridsdale's and Allan Leighton's head's and they want the Board to reveal the extent of their liabilities. Oh how the mighty have fallen.
For me the most pleasing aspect about Venables' situation is that I can't help feeling that some wonderful karma cycle is in action.
When Venables took the Leeds job for a reported £2m a year, it was obvious that things weren't right at the club given David O'Leary's sudden departure.
Failure to qualify for the Champions League had meant that Leeds had to sell, so off Rio Ferdinand went to the Rags.
As the season progressed, it seemed that Venables' much-fabled coaching midas touch has deserted him, as Leeds were appalling and even his superstar signings (Barmby, Okon, Lucic) couldn't turn things around.
I was at my department's Christmas party the night I thought Venables would finally get the chop. But his beleagured team managed to beat Bolton and he hung on to his job.
However, I am now pleased he did because the January transfer window has heaped misery on him and has visibly physically affected him.
After being told that if Fowler, Bowyer and Dacourt left the club no other key players would follow, the Board touted Jonathan Woodgate to Newcastle and sold him for £9m on Friday.
Venables was on the rack and in a pained press conference with Peter Ridsdale, he said that he was staying for the immediate future but he would be considering his future. This has delighted me, as the hunter has become the hunted.
There seems to be a media perception of Venables being a managerial genius, blighted only by his own ambition, unconventional practices and the football establishment. This is not true.
Terry Venables is a chancer, a man who has built up a career on spin and odd minor achievement to create an image of being football's saviour.
For example, when he was England boss we played no competitive games for a year, drew against the Swiss, got a lucky win against the Sweatys, then destroyed the divided and bickering Dutch (as they always seem to be at major championships), got a lucky penalties win against Spain and then pitifully crashed out to a poor and ageing German team managed by that football genius, Berti Vogts.
This was coupled with home advantage and playing each game at a full house Wembley, but somehow Venables was allowed to spin his reputation to make him look like a modern day Moses.
My real dislike of the man obviously comes from his second spell in charge of Palace, although being a football fan I wasn't happy with the state he left Portsmouth in prior to that.
He asked for money to enter into talks about the Palace job! What an insult. After we launched his managerial career, you would have thought that he'd have a bit of affection for the club but, alas, he did not.
His time in charge of the club was my worst time as a Palace supporter. When he didn't turn up for the Samsunspor game I felt uneasy, yes it was a stupid idea of Goldberg's to enter the maligned competition, but 12,000-odd Palace fans had turned up and you would have thought the guy would make an effort.
Then we started buying average and appalling players, turning in gutless performances and he was, again, absent from some first-team games.
The low point for me of that period was the Bolton away game in January '99. After travelling up halfway across England to watch a televised game, which kicked off at 1pm, I expected at least a fighting performance.
We were truely awful, the worst I can remember of a Palace team and we just laid down and died. What made it worse was that he and Matt Jansen had words before the coach left for Bolton, with Magic staying behind.
What annoyed me most was that despite the reservations about Venables coming back, we gave him our support and believed in him. We showed him respect when his father died, the minute's silence was impecably observed, we sang his name at games and we never shouted "EL TEL OUT", even when things were really bad.
When he left, after threatening an already crippled club with a £7m suit for loss of salary and bonus, the excesses of the second Venables era came out.
The aforementioned average and appalling players on exhorbitant wages, the agents' fees he received when Palace bought certain players, the house in Oxted he used free at the club's expense and the true extent of his absence from the day-to-day running of the team.
So next time Venables is being interviewed, talking in a self-deluded & hypocritical way about being lied too and about the duplicity of his Board, every Palace fan is entitled to raise a wry smile and to confirmation of the belief that karma really really exists.
And hopefully the karma will go further and Leeds will get relegated, as Venables' career will be buried for good.
I'd like to hear Venables spin himself out of that situation.