February 5 2003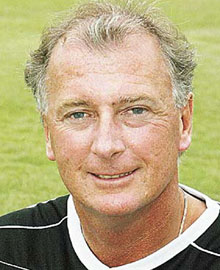 Trevor Francis was overjoyed with Palace's 2-0 win over Liverpool and wondered how they managed to hold on despite a mass onslaught from the Reds.
Julian Gray scored the first and Stephane Henchoz added the second with an own goal, while Dougie Freedman was sent off for the Eagles.
Francis said: "I've won here twice as a player for Birmingham and Manchester City, but never as a manager.
"I've had three goes now as a manager and finally made it. When I was manager at Birmingham, we ran them close in the Worthington Cup Final, then 10 days ago we should have beaten them at our place. This time we did it.
"But it certainly seemed unlikely at times, we could barely get into their half but it was Liverpool's inability to finish that allowed us to stay in the match, sometimes I don't know how we survived.
"They made chance after chance and when they keep missing them you wonder whether it's going to be your night.
"In the second half we got better, we pushed forward more and we found the gaps as they attacked."
On Freedman's sending off, Francis added: "I didn't see it too clearly but I've spoken to the referee and he's said it was an elbow so I've no complaints about it. Dougie was fouled and retaliated."
In Depth FA Cup 2002/03