February 11 2003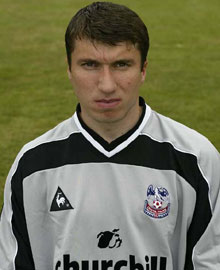 Alex Kolinko has been fined two weeks' wages by Simon Jordan after refusing to play against Leicester City.
Kolinko gave the club a two-week deadline to pay him money owed to him more than a year ago. He alleged he was owed £3,000 in expenses but it turned out to be £1,300 and this was swiftly paid by the club.
The Lativan international goalkeeper was fined and despite handing in his notice, he has been reinstated into the first team squad to face Leeds on Sunday.
He was also on the bench when Palace played Forest at the weekend. Trevor Francis said: "Alex is currently away on international duty but he will train with us on Friday. I understand he's been fined two weeks pay.
"My philosophy is that whoever's on the payroll, if they can help us win games I will play them and I think he can help us."