February 13 2003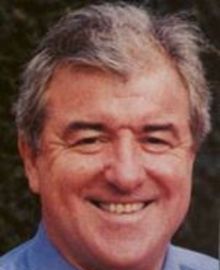 Leeds United boss Terry Venables can expect a hard time from Palace supporters when he returns to Selhurst Park for the FA Cup fifth round clash this weekend.
A massive 91 per cent of Holmesdale Online viewers said they will give him a bad reception on Sunday.
Out of nearly 500 votes cast over the past seven days, just six per cent said they would cheer him, while three per cent were unsure.
Venables made 14 league appearances for the Palace in 1974 while at the end of his career before joining Malcolm Allison's coaching staff. He became manager in 1976 and guided a team of young stars, who were nutured through by Allison, to two promotions in three years.
After falling out with the board following a few controversial transfers, he deserted to QPR and promptly took Palace's best players with him, much to the dismay of the Selhurst faithful.
He was appointed head coach at Palace by Mark Goldberg in April 1998, and some supporters were still angry at the way he left the club in the late 70s.
Nevertheless, he was given a good welcome on his return. But Venables proved his lack of managerial ability by making a host of appalling signings on massive wages, while acting as agent for many of them.
Remember the "talented" players he signed such as David Amsalem, Matt Gregg, Lee Bradbury, Fraser Digby, Andy Turner, Walter Del Rio (and the other Argie who didn't turn up) and Craig Foster? While selling Neil Shipperley, Marc Edworthy, Hermann Hreidarsson and Marcus Bent who were good players.
His appalling lack of commitment was evident in the team's terrible run of results and made even worse by the fact he was picking up an exhorbitant salary along with various bonuses, house and car allowances.
Palace nearly went out of business partly by trying to keep up with Venables' expensive wages and signings, although Goldberg should shoulder most of the blame for sanctioning it all. Venables even filed for loss of earnings as the club was about to go under.
The supporters haven't forgotten those bad times and Sunday will be the first time they can vent their anger at the former England coach.
If you thought the reception Steve Bruce got was bad, this could be even worse!