February 17 2003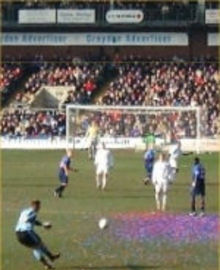 Monday's newspapers unanimously agreed Palace were robbed of victory against Leeds in the 2-1 defeat on Sunday.
The front page of the Guardian's sports section had the headline "Robbery at the Palace leaves Francis fuming".
Reporter Kevin McCarra said: "In the end it required a mistake by the referee Dermot Gallagher and his assistants to steer Leeds towards their first appearance in the FA Cup quarter-finals since 1998.
"In the 39th minute they failed to see that a shot by Tommy Black, which would have put Palace 2-1 up, had crossed the line, and they did not detect either that it had also struck Michael Duberry's arm before Danny Mills cleared. Trevor Francis's team might have settled for a penalty and a red card.
"Just don't ask Palace supporters to call Kewell's winner a goal fit to win any match. They have been denied revenge and, rather more significantly, their side has been maltreated in their attempt to extend a cup run that had already eliminated Liverpool.
"There was resilience about them here and it may have been only the referee that was too much for them."
"Robbed" was the Sun's backpage headline. Inside, Mark Irwin talked about Venables' return to Selhurst Park: "Saddam Hussein in a Millwall shirt would have received a warmer welcome from Palace fans."
He added: "Referee Dermot Gallagher had a perfect view of Duberry's handball. Linesman Jim Devine was in line with the ball as it bounced down. Yet neither was convinced by the evidence of their own eyes.
"Terry Venables had got away with it again. So nothing new there then."
Even The Yorkshire Evening Post said: "How Dermot Gallagher and his assistants failed to award Palace a goal in the latter stages of the first half when Tommy Black's shot clearly crossed the line will remain a mystery to all – but it's the kind of lucky break that has eluded Leeds United and Terry Venables this term.
"Francis has moulded a fine young side at Selhurst Park and, given their recent win over Liverpool, Palace look capable of going on to bigger and better things."
The reporter suggested Gallagher might well be a Leeds fan: "With a record of 13 wins and five draws in his last 18 games in charge of United, Leeds fans must also be hoping that Gallagher is the man in the middle for this year's final. If that's the case, United's name really could be on the Cup."
In Depth FA Cup 2002/03