February 17 2003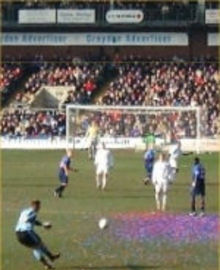 Palace fans react to the 2-1 defeat by Leeds which was marred by Dermot Gallagher's shocking officiating...
Sherlock
We didn't just deserve a draw. On the balance of play and skillful football we deserved the victory but it was'nt to be because of the shameful performance of a dishonourable referee.
There's something pretty distasteful in seeing him laughing with Mills and patting him on the arse. His fee should be witheld until an investigation of his conduct today. His partiality has cost us a small fortune.
j2j007
I have had to sit there and watch my beloved Palace dumped out of the cup by appalling refereeing decisions. Against Sheffield United I watch as a blind linesman didn't spot three players standing in an offside position and yesterday I watched in disbelief as not only a blind linesman but also a blind ref fail to see three blatant match-changing decisions.
A quick free-kick that nine out of ten times would have been taken again and then a save that Gordon Banks would have been proud of and then the ball clearly going at least SIX INCHES over the line only to be not given.
I truly believe if that had the goal been given we would of gone on to win the game, but once again we a knocked out of the cup not because the other team were better than us simply because the officiating was of such a poor standard it beggars belief.
I personally feel that fixing was in place yesterday as too many Premier clubs had been knocked out of the competition already and the FA were getting scared that a non Premier league team might actually go all the way and win it, and this would not look good for them if a weaker team put one over the big boys.
Old Chap
Can't argue with Leeds taking the kick quickly, it's within the rules and our players should have been ready. BUT when we got a free kick in similar circumstances, the ref wouldn't let us take it until Leeds were ready. One rule for them and one for us. I wonder if the "goal that wasn't" had been against Man U or Arsenal what the decision would have been?
Dangermouse
I have no real complaints about the Leeds side, only the officiating. Maybe their luck has finally taken a turn for the better and good luck to them. I just hope after the way we've been shafted in both cups that our luck will turn in the league. As Martin Tyler said: "Trevor Francis has always struck me as an unlucky manager". Amen to that!!
Moose
Having watched Leeds play on the telly a few times in last couple of seasons, I thought they'd managed to cast off the Dirty Leeds tag and play some attractive football. How wrong I was.
The niggling way they played today, particularly Mills, Smith and Seth Johnson, was a real shame and only goes to confirm why they're not challenging in the Premiership.
The amount of 'afters' the Leeds players indulged in was a disgrace and Gallagher should have booked at least a couple of them in the first half. If it wasn't for Kewell's goal, you'd have come away today wondering whether they had any skill in their team at all. Dirty, dirty Leeds.
But all credit to our boys for another really good effort - now let's turn that passion on in league games and get in those play-off places.
In Depth FA Cup 2002/03