February 18 2003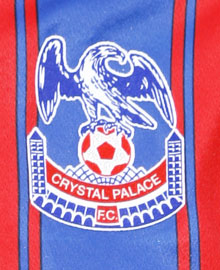 Holmesdale.net reader Chris Haynes can produce damning evidence of dozy ref Dermot Gallagher's Leeds United bias which streches back a number of years.
In Sunday's FA Cup tie vs Palace, Gallagher not only missed Tommy Black's shot crossing over the line but somehow failed to spot Michael Duberry handling the ball and failed to give a penalty or send him off.
* He has previously been demoted from the Premier League for failing to send off Leeds' Robbie Keane for a foul against David Beckham on October 24, 1999.
* He failed to send off Lucas Radebe of Leeds for a clear professional foul on Don Hutchison, who was clear on goal with Everton leading 3-2 on February 14, 1998.
* He failed to notice a Leeds handball in the penalty area (sound familiar?) against Birmingham, and then failed to notice Jimmy Floyd Hasselbaink's foul on a Birmingham defender as he rose to score the winning goal.
* He has never given a penalty against Leeds.
* And most damningly, in the last 18 games he has refereed against Leeds they are unbeaten - full details as follows:
Season 1997/98
Leeds 1 Arsenal 1
Leeds 1 Aston Villa 1
Leeds 3 Birmingham 2
Season 1998/99
Leeds 1 Blackburn 0
Liverpool 1 Leeds 3
Aston Villa 1 Leeds 2
Leeds 1 Man United 1
Season 1999/00
Leeds 2 Middlesbrough 0
Everton 4 Leeds 4
Man City 2 Leeds 5
Leeds 1 Spurs 0
Season 2000/01
Leeds 2 Everton 0
Leeds 1 Arsenal 0
Season 2001/02
Man United 1 Leeds 1
Leeds 2 Ipswich 0
Season 2002/03
Newcastle 0 Leeds 2
Leeds 1 West Ham 0
Crystal Palace 1 Leeds 2
Gallagher had to stand down from two Premiership games in February 1998 after failing to send off Arsenal's Steve Bould for a red card offence against Chelsea.