February 19 2003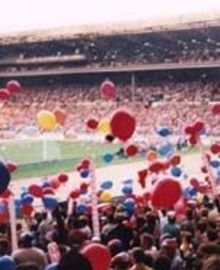 Palace were cruelly knocked out of this season's FA Cup by Leeds, so we recall happier times in 1990 when we finished runners-up of the world's greatest cup competition.
Tstack
Well, it is the most important moment I've ever witnessed in the world of sport. As an American, I knew nothing nor gave a damn about this sport until watching that match that a mate took me kicking and screaming to a bar (pub) that had the match via satellite at like, 8 o'clock in the morning.
By the time it was over my whole ignorant world had been opened to what your game is all about. The play on the pitch, the songs from the supporters, the emotion was so raw I was riveted by it all.
I've played basketball in loud, jam-packed arenas in pressure packed finals. I've been to the Super Bowl, the Stanley Cup Finals and the World Series. I thought I had witnessed the best there was to see in the world of sport. I was wrong.
The 1990 FA cup final taught me I had a lot to learn about what the pinnicle of sport was all about. I envy you. You guys (and most of the world) got it right. There is nothing like English football.
After it was over I was heartbroken for a team I'd bearly known for 90 minutes. And the supporters, I hadn't (at that time) the faintest idea what you lot had been through (though I've been watching it unfold for the last 12 years!!).
You made me want to follow the Palace, to try and pull in match results on shortwave radio from the BBC (before the dawn of the internet). You showed me what it's like to really LOVE a club.
You taught me what few Americans will ever get to know. That despite all our loud obnoxious ways, our sports, our movies and media, the English are tops.
I began to learn that from a loss in the 1990 finals that I had no interest in seeing. But what I saw that day, has changed me for life.
I can honestly say, I love your game, I love our closest brothers the people of Great Britain, and I love the Palace and I will go to my grave a Palace Man for life. To the Palace...
Exiled_Eagle
As I'm only 14 I don't remember alot about the Cup Final. I had just turned two years old and I remember being carried by my dad up Wembley steps. As I got up to the turnstiles I was lifted over them and into the arms of one of my dad's mates. He was mad on Palace and once kicked in the Chelsea boss's Merc after a game. As we got in our seats, I sat on my dad's shoulders and felt the rush.
All I remember is the incrediable defening noise throughout the entire game. I remember very little about the game itself, but I will always through my life remember what an atmosphere Man Utd and Crystal Palace made on that day, something that was never repeated *in my eyes* at a Wembley Cup Final again.
Selhurst Stallion
Just looking at those pictures brings it all back. I was 15 at the time so I suppose I was one of the lucky ones because I guess at that age you do fully understand what the occasion means but yet you're still a kid, so it really was the most exciting feeling in the whole wide world.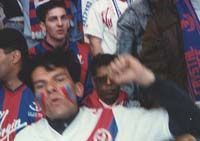 The hairs on the back of my neck stand up just thinking about it - the excitement the night before, the journey to the stadium with traffic jams filling the roads with a sea of red & blue.
Listening to David Jensen on Capital getting all excited with us with the Flying Eye above Wembley monitoring the traffic. There was a real carnival atmosphere aswell that day. I remember talking to a Man Utd fan on Wembley Way with my dad and everything was just so friendly.
There really is such a lot you could say but I'm really struggling to do both days justice. Deano Standing's book No Fishcakes On Matchdays is what I recommend people to read who weren't at the event. A truly magical read that will put a tear in your eye if you were there and make you feel part of the day if you weren't. The clubshop may still sell it.
andy_the_eagle
Itís difficult to know where to start when remembering this magnificent chapter in Palaceís history. The early start, walking down Wembley Way, the banter with the United fans, all made it a day to remember. However my anecdote took place a few weeks before.
My sister-in-law volunteered to go and queue for tickets at Selhurst when they went on sale. We decided we would try for tickets in the middle price range of about £25-£30. She left Portsmouth very early and arrived at the ground at about 5am or 6am I seem to recall, only to find a huge line of people already in place.
Eventually she reached the box office window at about 1pm and bought her tickets. The real fun started in the evening when she phoned me to let me know how she had got on.
The opening gambit was to be expected: "Do you want the good news or the bad news?" she asked. "Go on, then," I replied. "The good news is I got the tickets, the bad news is we're in the Olympic Gallery at £75 each!"
All I can say was that it was worth every penny. While we were up in the Gods, we met Richard Branson and Trevor Brooking and got them to sign our programs.
dicky boy
All i can remember was sitting on my parents' living-room balcony in Spain listening to the live BBC World Service broadcast, whilst leaning through the doorway watching the game. Well my Spanish wasn't good in those days and I didn't understand the commentary, so I improvised.
But I did have me in-laws recording the game back in England and yep I made the whole family sit down and watch it again when the tape finally came through the post box.
All I remember for the replay are tears lots and lots of tears and not wanting to speak to anyone for ages...GUTTED is the only words I can use to explain how I felt along with suicidal.
I remember going out the night before in my local town Tonbridge wearing our shirts into a boozer we had never been in before, everyone was hospitable and wished us luck.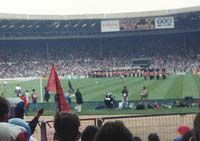 The funniest thing was that a bloke who I hadn't met before was gonna meet us for a drink in this pub and he burst through the doors wearing shirt shorts socks and football boots smothered in scarves and waving a Palace flag! Shouting "Eagles!". The pub was in shock and we laughed our bollocks off. I thought "what a nutter!"
On the way home all the cars that passed us bibbed their horns at us! I later found out from my brother's wife that this bloke had the Millwall supporter over the road off by hanging red and blue flags from his guttering accross the road to the Millwall bloke's house. When the guy got home from work he ripped it all down and went looking for the Palace fan!
On the morning, woke up early with massive hang over and got to Charing Cross about 10.30am and waited for the Griffin to open and got hammered till 2.30ish. Got a bit nasty in the pub when a mob of Mancs came in at the end!
Got to our seats and had the pleasure of five or six Mancs sitting behind us who well and truly pissed us off when in front. But when Wrighty got the wonder goal we turned and physically shook the blokes who were none too pleased but it felt good.
I was just gutted as everyone was when Hughes got that bloody goal with six minutes left. Brilliant day out that will never be forgotten or dare I say repeated!
Giovanni
All I can remeber really was joy when Wright scored and being gutted when Man United made it 3-3 with about 7 mins left! W*****S. Plus there was the fact that my uncle (who was wearing a Palace cap, shirt, scarf round his neck plus tracksuit bottoms which had four Palace scarfs sown onto each leg!) paying £120 for a ticket.
He said he should be easy to spot. Considering he was sitting smack in the middle of 25,000 Man U supporters, he wasn't wrong!
Send your Cup Final photos to webmaster@holmesdale.net
---
What are YOUR memorable moments from from the 1990 FA Cup final and cup run? Email them to us at editor@holmesdale.net and we'll publish the best!