February 24 2003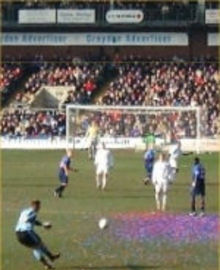 Dermot Gallagher, who was referee when Palace lost out to Leeds United in the FA Cup, has called for electronic aids to be introduced to help officials.
Palace were robbed of an important goal in the first half of their 5th round FA Cup tie, when Tommy Black's close-range shot was blocked inside the goal by Michael Duberry.
Gallagher ruled that the ball had not crossed the line but TV cameras showed otherwise.
Gallagher is adamant he could not give a goal from his position but he is sympathetic with Palace manager Trevor Francis' call for modern technology to decide ball-over-the-line debates.
Gallagher told The Sunday People: "I'd be a fool if I was offered help and didn't want to use it. I'd like to see anything which would help get decisions right - anything that would help me and my colleagues.
"I'd have been a very, very brave man to have given a goal from where I was standing on the edge of the area. And my linesman couldn't see if the ball was in. That's life, I'm afraid."
With regards to introducing high-tech devices to record the position of the ball on the pitch, Gallagher added: "I don't know how they're going to do it. If you go down that road it has to be foolproof."