March 26 2003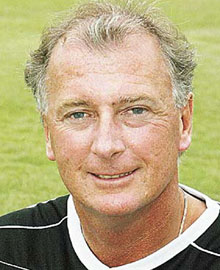 Trevor Francis was happy to collect a point away to Brighton last night and praised the Eagles' battling qualities.
He said: "I would like us to have played better but I can't fault our battling qualities. Overall, I am pleased with the way we performed.
"We initially set our stall out for the win by playing with three up front but the sending off put us on the back foot.
"It was then that we showed our battling side. We dug deep and we've got to be happy to take four points from Brighton this season."
Alex Kolinko was comfortably named man of the match for a top display. Francis said: "He pulled off the save of the match in the first half to keep the scores level. It's our second successive clean sheet and thatís pleasing."
Noel Whelan a missed a good chance to break the deadlock but his effort flashed past the post and Francis added: "He should have hit the target with that chance but I can't have any complaints about the result because they really came at us."