March 29 2003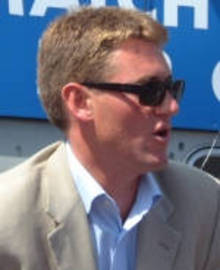 Simon Jordan said he won't be sacking Trevor Francis at the end of the season because the club cannot afford it.
Fulham boss Jean Tigana has been linked with Francis' job after the Eagles have missed out on the play-offs.
Jordan told the Croydon Advertiser: "If I did that [sack TF] it would cost me a small fortune to pay off his contract and I might have had to put up the season tickets and other tickets by about 25 per cent to pay for it.
"After all, at the end of the day we are running a business here. The same fans who want a change of manager would be the ones complaining if we changed the managerial staff and they had to partly pay for it."
He added: "We can't keep making changes at managerial level. We need some kind of continuity and besides I do have a certain sympathy with the manager because of the injury crisis we had this season.
"At one time the manager was without two thirds of his first team squad. But even when we were at full strength we did not show resilience at times. Saying that we were beginning to show more mettle before the injuries."