April 15 2003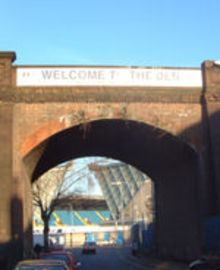 As expected, we've hardly sold any tickets for Easter Monday's match against Millwall at the Den, writes Gordon Law.
The usual excuses are being trotted out about how people are unable to make it. I can understand people having perfectly legitimate reasons for not going.
I can also understand why people would want to miss many away games this season due to the way we have been playing. But it's not asking much for people to make a decent show for a ground virtually round the corner from Selhurst.
Some people describe the game as too meaningless to attend. Are you sure? Wimbledon have never been our rivals and they will soon be off to Milton Keynes anyway. So that leaves just Millwall as the only local derby in this mind-numbingly boring division.
Some may say Brighton are our true rivals and Millwall don't count and that's why they're not going. But to most people below 30, beating Millwall brings much more joy than a Brighton win.
Anyway, only 600 odd Palace fans made the Brighton away match due to the restricted capacity. So don't the fans who couldn't make it want to go to at least one big away game? Aren't we even allowed two big away games a year?!
The Den is just six miles away from Selhurst Park, yet last season we could only muster up a support of 1,600. Some reasons behind the non-attendance of some people was that it was Boxing Day and public transport was not running.
Bank Holiday games traditionally bring good gates due to most people having the day off, therefore giving more people the opportunity to go.
Another excuse is "I don't want to give them any of my hard-earned". As if £20 would make any difference! More than 4,000 Millwall fans weren't bothered when they came to Selhurst.
People seem to think the Den is a safety risk. I believe walking down Cold Blow Lane at the Old Den was intimidating but times have changed a lot since then. If you're streetwise and don't wear any colours, then it's no worse than other football grounds.
These are some people who would go to Wolves and don't realise that it is actually more violent outside Molineux than South Bermondsey as our fans can testify for the past two seasons when they've been attacked.
If you take a look at other local derbies. Can you imagine Wolves taking a mere 1,600 to West Brom or vice versa? There would be far more away support at derbies outside the Premiership like: Stoke and Port Vale; Swindon v Oxford; Ipswich v Norwich; Derby v Forest or the Sheffield derby.
We have a massive apathetic support who only turn out for the big home games when lots of loyal fans find it hard to get tickets. Such a poor turnout for a game this local makes me ashamed to be a Palace fan.
After last season's thrashing at the Den, nothing would give me greater pleasure at giving those Bermondsey wallies a hammering and give my mates the Nescafe wave from the away end.
I really hope Palace play with some passion which has been lacking in recent derby games and to do the double over our Bermondsey chums would be a bright spot in a crap season.
In Depth The Millwall Rivalry
Feel like writing about a current Crystal Palace issue? Email it in to us and we'll publish your words so Eagles around the world can read about it.