May 14 2003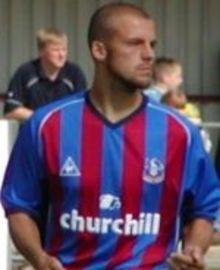 Palace are poised to offer new deals to their clutch of promising academy players who made their first team break-through this season.
Wayne Routledge, 17, and Gary Borrowdale, 18, signed senior contracts with the club earlier this season after breaking into the first team, and now Gareth Williams, 19, Ben Surey, 18, David Hunt, 17, Lance Cronin, 18, and Ben Watson, 17 are set to follow suit.
Under Steve Kemberís guidance the youngsters all played a key part in the reservesí Combination League title win this season, and have all figured in the first team squad at some stage.
Now the club will look to secure their emerging assets.
Caretaker boss Steve Kember told the Croydon Guardian: "Wayne Routledge, Gary Borrowdale, Gareth Williams and now Ben Watson have come out of the academy and proved they are technically good players.
"Physically if we can make them stronger, then that is a big plus for us because with the financial state of the game as it is, if you can bring two or three out of the academy into the first team squad, it will stand you in good stead."