May 14 2003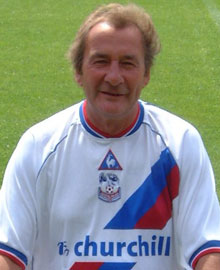 Palace care-taker boss insists no final decisions have been made on which out-of-contract will be offered new deals, but he revealed that Alex Kolinko would not be staying at the club.
The Latvian international goalkeeper, 28, is one of seven first team players whose contracts expire at the end of June, but it was hoped that the dismissal of Trevor Francis would persuade him to stay and challenge Matt Clarke for the number one jersey next season.
But Kolinko, who refused to play against Leicester this season over unpaid expenses, will not sign an extension at Palace.
Steve Kember told the Guardian: "I have spoken to Alex and he still wishes to go back home and find a new club."
Also out of contract is Scottish midfielder Steve Thomson, who went up to Edinburgh this week for a trial with Hibernian.
This was seen as a sign he had been released but Kember is insisting no final decisions have been made and that he is yet to meet chairman Simon Jordan to discuss the playersí future.
He said: "Hibs came and watched him play against Gillingham and wanted to pursue it. If we didnít offer him a contract, we felt it would be good for the boy that he could perhaps secure a future elsewhere if we donít want him."
Julian Gray and Tommy Black have yet to sign contract extensions, but Dele Adebola, Gareth Williams and goalkeeper Cedric Berthelin are likely to be offered new deals.
Kember said: "We are going to sit down and talk with them all, but as of yet there have been no negotiations whatsoever."
With the exception of Hibsí interest in Thomson there have been no enquiries from other clubs about Palace players, including Ade Akinbiyi who is back after a successful loan period at Stoke.
And Kember has already turned his attention to potential transfer targets.
He said: "We have looked at the shape of the squad and where we think the weaknesses are and which areas need strengthening with extra players but a lot of that depends on who does leave and who stays.
"We have a list of names and we have spoken to two or three players with a view once the time is right to try and get them to join the club."