May 22 2003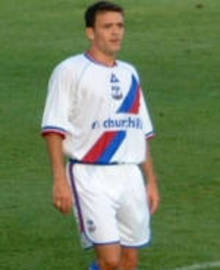 Palace midfielder Steven Thomson is still waiting to hear whether he will be offered a new contract, but the futures of the other six out-of-contract players have all been decided.
Thomson, 24, was up in Edinburgh last week for a trial with Hibernian, but he wants to stay at Palace and is awaiting a new contract offer.
Steve Kember told the Croydon Guardian: "Steven said it went quite well up at Hibs and we will see how it develops over the next week."
Latvian goalkeeper Alex Kolinko has effectively left the club, after making it clear he does not want to sign a new deal, before heading back to Latvia for two international matches in June, which will take him to the end of his current Palace deal.
Dele Adebola, and Cedric Berthelin have all been offered new deals at the club, which they are currently considering.
Kember said: "They have been made offers and it is up to the players now what they want to do."
Youth Academy prospects Gareth Williams, David Hunt, Ben Surey and Ben Watson will be offered senior contracts this week.
Kember said: "They will be made offers and Ben Watson will be made an offer to become a full time pro next week.
"It means we haven't got to go out and get somebody else for those positions and it is good to have players coming through from the Academy."