June 2 2003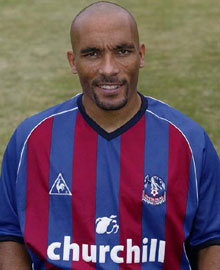 Curtis Fleming believes one of the positives to come out of last season's poor campaign was the blooding of Academy players into the first team.
Ben Watson, Gary Borrowdale and David Hunt all put in good displays along with the more "experienced" Wayne Routledge, who picked up the Young Player of the Year award.
Fleming said: "I think it's great that we've had three players come through this season. Any club in the country would be really happy to have that number of youngsters come through in one season so we shouldn't look down on it.
"You should be happy with one a season, so three is great. Although injuries went against us for most of the season, it has helped make the squad three players stronger now.
"With Wayne Routledge I think it's important he steps up again this year. He did brilliantly when he first came in but then he tailed off a little bit and that's because defenders got to know about him.
"Wayne's got no inhibitions and that's the great thing about him. But he has been coming up against experienced defenders who are happy just to smash him because they can't keep up with him.
"Steve and Bulli will be working with him in the summer to help him improve certain areas of his game and to become more consistent."