September 4 2003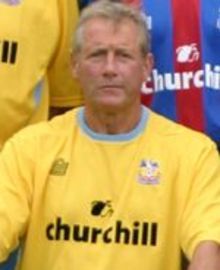 Ricci Dolan snatched a last-gasp equaliser in the reserves' 1-1 draw away to Brighton in the preliminary round of the Pontins Holidays Cup.
He netted with a spectacular overhead head kick in stoppage time with virtually the last kick of the game following a Gary Borrowdale free-kick.
Brighton went down to 10 men in 32nd minute when Robbie Pethick fouled Tom Soares in the box.
Ben Surey's spot kick was saved by the keeper, and when the kick was re-taken after the keeper moved off his line, Surey's second attempt hit the post.
Sixteen-year-old Jake Robinson put the hosts ahead on the stroke of half-time. In the second half, the Seagulls hit the upright but Dolan saved the day in the last minute for Jim Barron's men.
Dolan said: "My goal was a bit lucky because it went through their player's legs on the line but a goal's a goal. I just tried to get my effort on target and it went in."
Curtis Fleming completed the 90 minutes without any adverse reaction to his knee injury.
Palace: Cronin, Fleming, Borrowdale, El-Salahi (Simpson 54), Wilson, Gibson, Surey, Dolan, Nabil, Soares, Berry.
Subs not used: Head, Winothai, Prigent, Hay.
In Depth Reserve news and reports