September 12 2003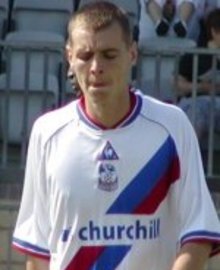 The Eagles' reserves suffered a rare defeat, losing 4-1 away to Northampton Town.
Current league champions Palace went in front thanks to a James Gibson goal, heading in Tyrone Berry's corner after five minutes.
The Cobblers equalised five minutes later through Steve Morison, then Paul Rickers (22 minutes), Martin Reeves (27) and Greg Ngoyi (46) made it a comfortable win over a young Palace side.
New reserve boss Paul Holden said: "I was very disappointed at half time because we didn't give a good account of ourselves in the opening half.
"We played better after the break and some points of the performance were encouraging but I felt we should have done better."
Palace: Cronin, Wilson, Head, Gibson, Berry (Heeroo 67), Brickell (Dolan 56), Surey, Simpson, Soares, Nabil (Bashkal 73), Black.
In Depth Reserve news and reports