September 21 2003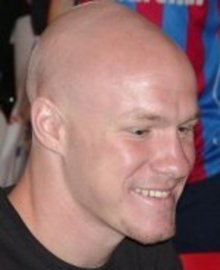 Against one of the favourites for promotion back to the top flight, Palace produced a fantastic 1st half display against West Brom, writes the Saint.
Well if we played like this every first half, I doubt that there would be any complaints.
From the first whistle, Palace wanted to avenge thier midweek defeat to Bradford, with both Shipperley and Freedman testing the West Brom defence in the first 5 mins.
Indeed the attacking continued for most of the first half, with Butterfield and Johnson linking up very well on the left. Johnson, especially, giving West Brom difficulties with his pace.
Indeed the football shown in the first half is what no doubt what all Palace fans had been waiting for after the 2 years of Trevor Francis, it was fast,slick and exciting. Kembers reign is truly here.
West Brom did not have much to offer in the first half generally, resolute in defence but thier only real chances in the half came from Jason Koumas, who had an effort saved after 9 minutes and then, with only 5 minutes of the first half left, hit the post with a curling shot which Berthelin had no chance with.
Everything that West Brom did in that half came through Koumas, whose constant running and tackling made him a very dangerous player.
However, Palace were definitely on top, Derry and Micheal Hughes bossing the midfield and with Popovic and Freedman restored to the line up, we looked more assured than previously.
But, with West Brom managing to repel all that was thrown in the first half, it ended 0-0.
The second half began much as the first did, with attacking being the order of the day, with Freedman making an intelligent run into the box and getting hauled down and what looked like a good penalty shout from the Holmesdale, was waved away.
Megson had clearly had words to say to his below par troops in the half time break as Lee Hughes went close before namesake Micheal had the ball in the net but the whistle had blown for offside moments before. Next AJ had a good shot saved by Russell Hoult before the unthinkable happened.
A long ball from West Broms' Andy Johnson was brought down well by Rob Hulse and even under close attention from Popovic, beat Berthelin from 15 yards with a vicous finish. It was Hulse' 6th goal of the campaign, and he is looking like a bargain at the £750,000 Megson paid for him.
Under Francis, Palace would have taken a while to get back on top, but those dark days are over and under Kember, Palace have a new resolve and we attempted to hit back directly, indeed Derry nearly did which resulted in a yellow card for a foul on Lee Hughes.
The momentum did not let up and the goal that we had been waiting for came swiflty, Johnson was set free down the right hand side and his square ball was met by Freedman who finished with aplomb from 6 yards.
It was his 6th start and his 6th goal, his 83rd for CPFC. Surely we will see another centurian this season.
So all square and the rough and tumble continued, with both teams making changes, Symons for Popovic for CPFC and Lee Hughes off with Scott Dobie coming on for the Baggies. Indeed Palace seemed to be in the ascendancy with Borrowdale winning a corner but nothing came of it.
Kember brought on Fleming for Smith to give the defence a more assured and experienced look before one of the more bizarre events occuring the 70th minute. After countless tackles and short passes Micheal Hughes powered into a melee of 2-3 players and took ref Paul Danson straight out...who remained on the floor long after the ball had been played and had to be stretched off the field to a waiting ambulance.
This was, albeit strange, took the sting out of the game and with the 4th Offical taking charge, the whole face of the game had changed.
West Brom, now seemed to be more and more dangerous and Koumas in particular was beginning to add his influence once again. As the game progressed Palace looked more and more jaded so Kember brought on Wayne Routledge for Dougie Freedman in order to spice it up.
But West Brom were seeing more of the ball, were forcing Palace into unforced errors, Kit Symons, nearly lost the ball with only Berthelin behind him, although the Frenchman managed to clear away, but it was another error which would nearly cost us the game.
Butterfield, who had an excellent match, passed up field from a goalkick where the ball was lost cheaply and Symons brought down Andy Johnson right in the middle in front of the penalty area.
Jason Koumas stepped up and dispatched a text book free kick over the wall and into the bottom corner with Bethelin grasping thin air. This was the 89th minute and while not many keepers would have saved the free kick, it was a real sickener to see another last minute winner go in.
The difference on Saturday, to Sunderland the previous week, was that there was 8 minutes of added time, so in true Manchester United fashion, we began to apply real pressure in search of the equaliser.
Thankfully, we only had to wait 5 minutes for this to happen, Hughes passed to Derry who ran a full 15 yards before unleashing a powerful drive which Hoult could only parry and Johnson accepted the gift from 7 yards. It was no more than what we deserved.
All in all, it was a great game and a great advert for Nationwide league football. We showed that we could more than match the best in this division.
All that needs to happen now, is for us to be back at full complement and then we will have a real chance in this league.
West Brom look like a more than capable outfit and in Jason Koumas, have a player that makes a decent 10 look an excellent 11. A draw was the fair result.
MOM Palace - Andy Johnson - Tireless Running and got just reward at the end.
MOM West Brom - Jason Koumas - Premiership class and worked hard all day, deserved his goal.