October 26 2003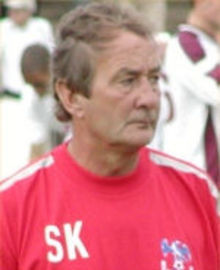 Steve Kember has called for positive thinking from his Palace players after they missed a penalty and failed to beat 10-man Gillingham.
The Eagles have one win in 12 and the pressure is mounting on Kember who was on the team bus deep in conversation with Simon Jordan at the end of the game.
Gills sub David Perpetuini scored what proved to be the winner in the 83rd minute from Mark Saunders' pass.
Kember said: "As a squad though we must keep a positive frame of mind and continue to believe in ourselves that we can turn this disappointing run around.
"A piece of bad defending right at the end cost us the game and that was after we had weathered the storm well in the first half.
"At times today our passing was below the standard I expect and we were guilty of giving the ball away too often.
"During our best spell of the match we were awarded the penalty and if Dougie Freedman had scored the outcome of the game could have been very different.
"After that at times I felt we were once again guilty of being pushed back which means we end up putting ourselves under pressure."
He added: "I was obviously being sarcastic in the season, when after three wins, I said 'this managing game is easy'.
"We didn't do ourselves justice. We were not alert and I think there's the confidence factor. There weren't many positives to be taken from the game.
"We have shown we can be a good unit. But we didn't pass as we can and certainly didn't make enough of the spareman when they went down to 10.
"That's the first penalty Dougie has missed for us. It just had to be today, didn't it?"