October 30 2003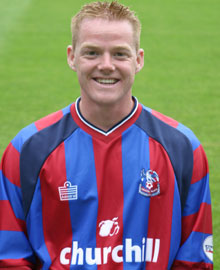 Cambridge United have taken Gareth Williams on a one-month loan deal.
Williams has found it hard to find a place in the Palace side this season, despite many fans calling for him to get a run-out.
His only game so far this season was in the Carling Cup match against Doncaster.
Cambridge United player-manager John Taylor was delighted to secure the services of the young striker. "It's been quite hard to get hold of people," he said.
"Gareth was quite high up our list and I'm delighted he's come for a month.
"It's going to take him a little while to settle in and get the pace of the game, but I'm sure he'll be a good acquisition for us.
"Goalscorers at any level are hard to come by and he certainly knows where the back of the net is," he told the club's official website.
Williams spent two months on loan last year at Colchester, netting six times in just eight appearances.