October 26 2002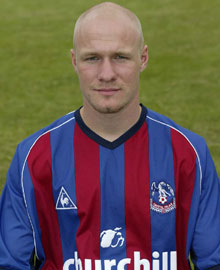 CHRIS Eubank, Pinkie from Brighton Rock, Fatboy Slim, Zoe Ball, that pier in the middle of the sea, Des Lynam - can you hear me Des Lynam? Your boys took one hell of a beating, writes Chris Fidler.
This meeting of deadly rivals never needed hyping up, but the return of Steve Coppell and Simon Rodger added extra spice to this derby day massacre.
Fans had waited 13 years for this, and when 3pm arrived, they had to wait an extra 15 minutes to make sure they could all get in to the ground.
One Palace fan had even missed the birth of his child to be at the match.
Lee Waters found out via the tannoy he had a new baby boy, born, by my calculations, as Dougie Freedman thumped home a second-half penalty and the Eagles' third goal in this rout of routs.
And another Palace legend was born on that day, as Andrew Johnson hit a hat-trick to earn himself the freedom of SE25.
And what of Trevor Francis, booed by the same fans just the week before?
Now he's being regarded as the genius who masterminded this cruel culling of the Seagulls.
In the cold light of day, though, this was a Brighton side that had lost 11 league games in a row, facing a Palace team which had lost just once in as many matches.
The pressure was on for Francis, and football being football, you wouldn't have been surprised if Brighton ripped up the form book and left with all three points.
But as Wolves and Cheltenham have already found out this season, when Palace continue to miss chance after chance in game after game, it is only a matter of time before the Eagles click up front and give some unfortunate side a right hiding.
And how sweet it was that Palace chose the Seagulls to convert those chances they usually waste.
Although they did benefit from some rather generous play by the away side's goalie.
It was a case of jeepers Kuipers for the poor old Dutchman, who is said to be a fans' favourite in the matchday programme. Well he is now in the eyes of the Holmesdale faithful at least!
From the off Palace showed there was only going to be one team in it.
The super Eagles were so dominant in the opening stages they forced eight corners in the first 13 minutes.
The fourth of those set-pieces brought Johnson his first goal after three minutes.
Julian Gray's cross bounced around in the box and fell to the former Birmingham striker to stab home from four yards out.
The Eagles had the ball in the net 10 minutes later, but Tony Popovic's header was disallowed for a foul in the box - much to the relief of Michel Kuipers,who missed the ball completely.
The celebration music was played over the speak-ers and the announcer gave it as a goal. Can't blame him though - it was against Brighton.
Alex Kolinko was the next keeper to get it wrong after 14 minutes, letting the ball sail over his head.
But Bobby Zamora's shot from a tight angle flew high over the bar.
Brighton almost equalised through Zamora 32 minutes in, Kolinko again the culprit.
He fumbled the ball and it fell to the Brighton number 25 whose left-foot shot went wide.
One-nil became 2-0 a minute later as Johnson glanced in his second at the near post from a Julian Gray corner.
The fans were going wild - apart from those sat stunned in the Arthur Wait stand.
The second half saw Palace finish the job of tearing a sorry-looking bunch of Seagulls apart.
Johnson tore away after being released by a lovely weighted pass from Freedman.
Two defenders gave chase, and one, Danny Cullip, tripped Johnson for a penalty which Freedman duly converted on 48 minutes.
Two minutes later Palace made it 4-0 through another penalty, again won by Johnson who was brought down by Paul Brooker. The defender got his marching orders from the ref, and Johnson completed his hat-trick from the spot.
The fifth was a Gray special after 52 minutes. The winger weaved his way past two men, made his way into the box and unleashed an unstoppable effort from a tight angle, which flew past Kuipers into the opposite corner of the net.
From then on, Palace missed some good chances, with Johnson and Dele Adebola being the chief culprits.
Perhaps they felt sorry for the boys in the blue and white.
Afterwards Coppell said Brighton's situation is like that of an alcoholic at his lowest ebb and his players will have to go on a 12-step programme of recovery.
Many Palace supporters would no doubt have been able to relate to that on Sunday morning as the hangovers kicked in.
MATCH FACTS:
GOALS: Palace - Johnson (3, 33, 50 pen), Freedman (48 pen), Gray (52).
STAR MAN: Andy Johnson - Brighton couldn't handle his pace, Kuipers couldn't handle his finishing.
TEAMS: Crystal Palace: Kolinko, Butterfield, Popovic, Powell, Granville (Rubins 58), Mullins, Derry, Gray, Routledge (Adebola 30), Johnson (Black 75), Freedman. Subs not used: Michopoulos, Riihilahti
Brighton: Kuipers, Watson, Mayo, Cullip, Blackwell, Hart, Oatway (Rogers 58), Brooker, Carpenter (Rodger 58), Zamora, Barrett (Marney 73). Subs not used: Keeley, Hinshelwood.
BOOKED: Palace - Powell
SENT OFF: Brighton - Brooker (50)
ATTENDENCE: 21,796
REFEREE: P Walton 8.
MATCH RATING: 9.
In Depth The Brighton 5-0 win