November 6 2003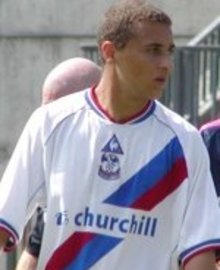 Paul Holden's reserve side came back from two goals down to draw 2-2 against Reading, thanks to a Tariq Nabil brace.
Reading opened the scoring after five minutes when Shaun Goater laid the ball off to Kevin Watson at the edge of the box and he fired past Lance Cronin in goal.
Palace equlaised on 34 minutes with a penalty. Nabil was pushed in the penalty box by Darius Henderson and he dusted himself down to put away the spotkick.
Nathan Tyson restored the lead for Reading on 54 with a shot from the edge of the box after good work from Omar Daley.
Then Nabil levelled it up on 76 minutes with a top solo effort, beating a defender who was holding him back, to score past the keeper.
Palace: Cronin, Wilson, Head, Dolan, Togwell, Gibson, Berry (Nabil 25), Heeroo, Bashkal, Soares, Simpson.
Subs not used: Conroy, El-Salahi, Prigent.
In Depth Reserve news and reports