November 15 2003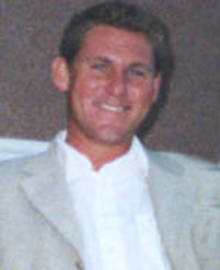 Jack Laws wanted to tell Simon Jordan how disappointed he was at the criticism he was receiving from the Press and some Palace fans...
Dear Mr Jordan,
I write to you today as a lifelong fan of Crystal Palace and as a member of the club. Unlike most letters I assume you receive from fans which criticise the club and most of the decisions you make, I write to you today not to criticise, but to praise you.
I have seen the vast amounts of the criticism that you and the club have received in press due to the managerial changes that have occurred under your time as chairman, and this criticism really does disappoint me.
Obviously it doesn't look good the amount of different managers that the club have had over the past three years, but there is reasons why, which the press do not take into account, or just simply choose to ignore.
For example Coppell: decided to move onto pastures new, Smith: We were 2 games from relegation, Bruce: left for Birmingham, Francis: We were going nowhere, and Kember: a bad run of form.
But the way you are portrayed in the press as a trigger-happy chairman is completely wrong, and I am amazed that up until now that you have kept your cool and haven't spoken up about this to the press and made a public statement.
I know for a fact that if I was in your position, I would of done by now, and ended up making myself look really bad. I am really proud the way that you have ignored this criticism and not let it affect the excellent way that you run the club.
Mr Jordan, I do not know of a Palace fan that is not grateful to you for saving our club when we were in administration.
As you frequently point out in your notes, this club has the best set of fans there is, and we are all proud to say that we are Palace fans, and we will certainly stick with the club no matter what happens.
I often use a variety of Crystal Palace websites, including the official site, as I like to read other peoples views and opinions on the club. The best one for this is www.holmesdale.net.
In some ways this site is disappointing, because some of the fans that use this site do not have confidence and are always moaning about one thing or another. It is these so-called "fans" that give the press their firepower for their criticism.
I often read your programme notes and I could see you trying your hardest to gives these fans confidence, but I believe that even if Palace were top of the Premiership winning trophies left, right and centre, these people would still find something to moan about.
Don't get me wrong, not all Palace fans are like this. In fact, quite a vast majority are like me, and are completely the opposite. I always believe in you and the club. I also know that you are the right man for Palace chairman, and that pretty soon, you will find the right man to get Palace into the Premiership.
But with the criticism from the Press, and the other type of so called Palace "fans", I'm surprised you haven't begun to wonder "Why do I bother?"
Over the three and a half years when you have owned the club, many changes for the better have occurred. As a loyal fan I can see that your constant focus has been to improve everything about the club and I believe that there has been considerable improvement.
I know that enormous amount of your personal monies have been invested into what ultimately is a black hole with little in the way of reward or recognition, let alone return, and I am yet to meet a Palace fan that doesn't appreciate this.
Since exiting Administration, you have used spent a great deal of money and time changing the club for the better.
For example, the club has bought a fantastic new training ground, the best it has ever had, built a fantastic bar again the like of which has never been seen before, solely for the benefit of fans, installed a giant TV screen, laid three new pitches, invested in a TeamCard scheme which has great benefit to the fans, opened and refurbished three retail outlets, reduced merchandise prices, launched a whole host of initiatives as well as having a concerted policy to bring the club and fans closer.
With communication being very open, fans forums were introduced and concepts like family days with tickets and funds for local schools being made available.
This has greatly improved the club and anyone who can find something wrong with this needs their head examining. I for one will always support you and the club with any decisions and changes that are made, and I will always be a loyal Palace fan.
So on closing, I would like to say thank-you for rescuing the club, and all the time and money that you have put in, and to let you know that not everybody out there hates you!
In all the time that I have supported Palace (since I was 3) I have never known a better chairman at the club. Thank-you.
I would greatly appreciate a response to this letter from yourself, and await its contents with interest.
Yours Sincerely
Mr Jack Laws