July 6 2001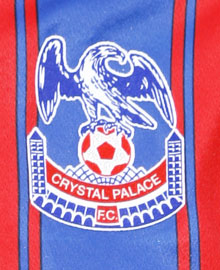 Mickey Droy, Eddie McGoldrick, Rachid Harkouk, Kevin Mabbutt, Glenn Pennyfather and Don Rogers... Where are they now? Find out here.
Mickey Droy (1984-87)
Giant centre-half Micky, was signed from Chelsea, after a loan spell at Luton, in 1984 by Steve Coppell. He made 263 appearances for Chelsea and was a revelation at the back for Palace at the ripe old age of 33.
He formed a formidable defensive partnership with Jim Cannon before moving to Brentford on a free transfer, where he finished his career. He made a total of 58 appearances, scoring seven goals.
Mickey, 49, is retiring to Florida with his wife and son, after selling up his electrical business.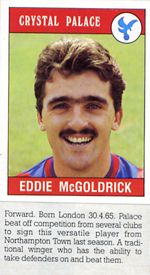 ---
Eddie McGoldrick (1988-93)
Eddie came to Palace in 1988 from Northampton Town. During his time with the club, the Charlie Chaplin lookalike made the right wing slot his own, feeding Bright and Wright crosses.
The Irish international even had a spell at sweeper, and did particularly well, earning the nickname Eddie McSweeper. He was the supporters' player of the year in 1992. But when the Eagles were relegated in 1993, as one of the best players, he was sold to Arsenal.
He made 189 appearances, scoring 16 goals for Palace. Apart from a wonder goal for the Gunners in Europe, he flittered in and out of the first team and went to Manchester City a few years later.
He is now player-manager at non-league Corby Town, where he joined in 2000, and has stints as a football co-commentator on BBC local radio.
---
Rachid Harkouk (1976-78)
Terry Venables signed "Rash the Smash" in 1976 and he was a bit of an irregular striker with an explosive shot. He scored 25 goals in his 63 appearances for the Palace in two seasons.
He moved on to QPR and Notts County and was a regular international for Algeria. He had to quit football in 1985 after getting injured playing for his country.
Harkouk, 44, now lives in a small village called Burton Joyce and has a number of personal business interests.
---
Kevin Mabbutt (1981-85)
Kevin was the older brother of Tottenham's Gary. Dario Gradi brought him to Palace in 1981 from Bristol City and went on to play 88 times, scoring 24 goals in his four years with the club.
He was plagued by injury, but was one of the best players at the club at the time. The striker had to retire from the game prematurely with a knee injury aged 26 after a career total of 179 appearances.
He now runs a restaurant in the exclusive Rancho Santa Fe area of North San Diego County, Southern California, with his wife.
---
Glenn Pennyfather (1987-89)

Glenn was bought by Steve Coppell, from Southend, to replace Andy Gray in 1987, after making more than 230 appearances for the Shrimpers. He was a hard-working, battling, midfielder and played alongside Alan Pardew.
A series of injuries saw his spell at Selhurst stall and he eventually moved on to Ipswich in 1989. After more injury problems, he transferred to Bristol City in 1993, where injury brought his career to an end. He played 41 times for the Eagles, scoring one goal.
Glenn joined Canvey Island, of the Ryman Premier League, in 1994. He became coach in 1996 and is in the same role at the club to this current day.
---
Don Rogers (1972-75)
Don arrived at Palace in 1972 after spending 10 years at his first club, Swindon Town. He was a big name, signed from the Third Division and won the League Cup for Swindon in 1969 - scoring the winning goal against Arsenal.
He went on to become one of the greatest Palace wingers of all time. He scored on his debut and had pace and skill, scoring some great goals. He played 78 times, scoring 30 goals for Palace before moving on to QPR and then back to Swindon.
Don, 55, now runs a sports shop business in Swindon, which he started while playing for the Robins. He also finds time to manage Ryman League Hungerford Town.
---
---
If you know the whereabouts of any former players, drop us a line to editor@holmesdale.net and we'll add it to the rest