November 20 2003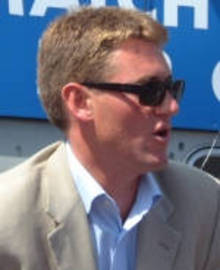 The dismissal of Steve Kember as Palace manager has once again ignited furious debate among the SE25 faithful as to who should his successor should be, writes Edward Aarons.
Suggestions ranging from Tony Adams to Lawrie Sanchez and even Nigel Martyn have been put forward by fans as Simon Jordan ponders the sixth managerial appointment of his three-year tenure at Selhurst Park.
Jordan must have thought that choosing the right man to lead the team was easy when Steve Bruce took Palace straight to the top of Division One in 2001.
Since those heady days, things have declined dramatically, and whoever lands the job, will inherit a team lying 21st in the table and severely lacking in confidence and self-belief.
As former Palace and current Crewe manager Dario Gradi put it at the weekend:
"Whoever goes for the Palace job has got to be desperate, it's not an attractive job is it?"
Hearing the manager of a side newly-promoted side to Division One describe Palace in this way, albeit a former manager of the club, underlines the problems Mr Jordan will face over the coming days.
The club no longer has the ability to attract in-demand managers, with identi-kit Eagles boss Alan Pardew, voted for by 40 per cent of Palace fans in May's managerial debate, choosing West Ham's comparative riches instead and Glenn Hoddle reportedly turning down the job.
Another favourite with strong Palace connections was Hull City boss Peter Taylor, who also ruled himself out of the race this week, saying he was happy to stay and try and maintain his revitalised team's progress in the Third Division.
The solution seems to be to find someone whose own current situation makes financial problems at Selhurst Park pale into insignificance and there seems to be one man who fits this bill perfectly: Oldham Athletic manager Iain Dowie.
Currently leading The Holmesdale Online's supporters' poll with a whopping 55 per cent, double his nearest rival - a highly unlikely George Graham - the former Northern Ireland international is well used to working under financial constraints and had a successful spell with Palace as a player when we were last in the Premier League.
He is also well used to taking flak from people, a crucial requirement for any manager: remember Fantasy Football League where he was always referred to as football's ugliest player?
There is a sense, though, that getting ugly is what is needed to drag this team out of the doldrums and Dowie, apparently considered for the job last time round, and would be a popular choice.
Another option, however, may be to turn to someone with a bit more experience at the top level of the game and Jordan could do worse than to take notice of Joe Kinnear's declaration of interest in the job last week.
The former Wimbledon and Luton manager is a proven motivator who is keen to capitalise on the massive potential of the club but he may not fit the bill because of his tendency to favour the long ball game.
The other 'experienced' options are endless: Graham, Robson, Burley or even Croydon-born Roy Hodgson but Jordan seems keen to avoid appointing someone who is going to command massive wages, which also appears to rule out any audacious bid to get Gareth Southgate to return as player/manager.
Stuart Pearce may well emerge as a dark horse to get the job and could be an extremely effective boss of the future.
Representatives of the club refused to be drawn on any speculation over the identity of the next manager however, issuing a statement said: "We can only confirm that Kit Symons and Stuart Gray are in charge until further notice. There are no immediate plans to alter this situation."
What is certain is that whoever eventually gets the job faces a mammoth task to pull the team away from the bottom of the table with severely limited resources at his disposal.
They should also bear in mind a popular joke doing the rounds with Eagles fans at the moment: Crystal Palace; the only football club with revolving doors.