November 26 2003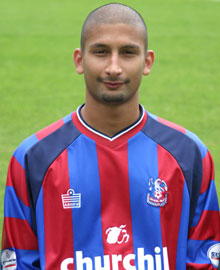 Palace reserves were knocked out of the Surrey Senior Cup with a 3-0 defeat at Kingstonian.
An unmarked Josh Francois headed home from a corner to give the hosts the lead in the 25th minute.
Then nine minutes before the break, they doubled the advantage with another headed corner goal - this time from Matt Elverson.
Palace's first shot on goal in the match came after 63 minutes when K's keeper Lance Key saved a Gavin Heeroo free-kick.
But Kingstonian added a third goal on 69 minutes and put the tie beyond reach from Grant Payne with a close-range strike.
Palace: Cronin, Wilson, Gibson (Conroy 76), Heeroo, Togwell, El-Salahi, Prigent (Hay 76), Soares, Nabil, Bashkal (A Smith 83), Simpson.
In Depth Reserve news and reports