December 4 2003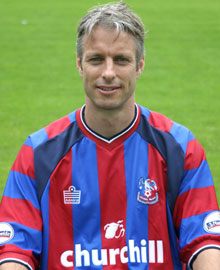 Kit Symons was disappointed to concede a "freak" opening goal which killed off his side's hopes of getting back in the game as they were knocked out of the Carling Cup fourth round by Aston Villa 3-0.
Symons said: "There were two freak incidents in the game with the first goal from my deflection and Tommy Black's miss.
"You normally get one of each type each season and they both happened in the same game.
"But I can take a lot of positives from it. It was a decent performance from us and we played some very good stuff at times.
"The second goal was their first effort on goal in the second period but the chance-taking was the difference between the sides tonight."
Villa boss David O'Leary added: "We made hard work of it. We started well and could have scored several more goals before we got the fluke in our favour.
"We've not had one like that this season and I would like a few more where it really matters in the Premiership.
"But after that we struggled a bit and Palace were the better team for periods and Thomas Sorensen made some solid saves at important times.
"We ran out comfortable winners at the end and the objective beforehand was to get into the next round and to score some goals and we achieved that. But give Crystal Palace some praise because they made a real game of it."
In Depth Carling Cup 2003/04