December 16 2003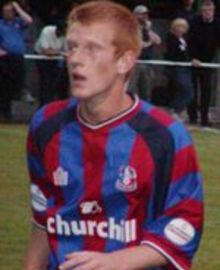 After making such a promising start to his unexpected early tilt at management, the wind appears to have been knocked out of Kit Symons' sails, writes Edward Aarons.
Three successive defeats have left Palace staring at the possibility of life in Division Two next season, with some bookies currently offering odds as low as 11-4.
Wednesday's latest debacle at home to Crewe which saw a team who hadn't won away from home for eight matches go 2-0 upside quarter of an hour showed that something drastic must be done to prevent the slide towards relegation.
The mood among many Eagles' fans is worsening, Wednesday's 12,000 crowd the lowest League attendance at Selhurst this season, and time is beginning to run out for some of the team's more established professionals.
Dougie Freedman, Neil Shipperley and Aki Riihilahti are among those to have been targeted by the boo-boys most recently as the performances they have turned in have not been up to the standards expected.
For most fans, the solution seems clear: let's give the youngsters a chance! While the likes of Gary Borrowdale, Wayne Routledge and Ben Watson have made a significant number of appearances, none is a certain starter each week even though the latter two both could claim to have been the best player at the club this season.
Previous great Palace sides have traditionally been formed from a nucleus of young players coming through the ranks of the youth and reserve teams who know how to play together from years of practice.
Terry Venables' Team of the Eighties contained five or six players who had grown up together, while Steve Coppell's 1990 Cup final team had bonded together over a number of years.
With this in mind, if Kit Symons harbours any real ambition of becoming manger on a permanent basis, he should begin building for the future as soon as possible.
The young talent currently under contract at the football club is immense, ranging from England U19 internationals Routledge and Borrowdale to youngsters like Tariq Nabil, Ricci Dolan and Tom Soares.
While some of these are clearly not ready for the first team, Ben Watson and Wayne Routledge should be allowed to play week in, week out, with others such as Gareth Williams, Sam Togwell and Gavin Heeroo pushing for places in the team.
The feeling is that there are too many players at the club who are operating in a comfort zone where there is not enough pressure being applied to keep their places.
Certainly, for a squad that looked so confident and talented at the beginning of the season, the time has come for an injection to revive Eagles' fortunes.
---
Feel like writing about a current Crystal Palace issue? Email it to us and we'll publish your words for Eagles around the world to read.